Suggested commit message
Issue #1952394 by vijaycs85, tstoeckler, webflo, Gábor Hojtsy, Schnitzel, falcon03, YesCT, kfritsche, Ryan Weal, dagmita, likin, toddtomlinson, nonsie, Kristen Pol, dawehner, tim.plunkett, penyaskito, EclipseGC, larowlan, robertdbailey, helenkim, David Hernández, EllaTheHarpy, lazysoundsystem, juanolalla, R.Hendel, Kartagis: Add configuration translation user interface module.
Problem
Drupal 8 has the configuration schema system with schema files that describe configuration so translatable pieces can be identified. With #1905152: Integrate config schema with locale, so shipped configuration is translated committed, locale module uses this to pull in translations from localize.drupal.org and save locally, so shipped configuration is translatable. However for edited configuration or when creating new configuration (your own blocks, your own views, your own contact categories, menus, taxonomy vocabularies), there is no UI whatsoever to translate those. Heck, there is no user interface to translate your site name.
Regressions resolved by this issue
There are also regressions in Drupal 8 fixed by this issue.
Drupal 7 allowed to provide a native language name which Drupal 8 does not allow (in favor of translating language names and using the native translation). This module provides the user interface for that.
Drupal 7 also allowed localization of date formats. There were bugos core implementations for that which were removed at #2127941: Remove two (out of 3) bogus and duplicate date languages UIs. This issue provides the user interface to actually translate date formats.
Proposal
Add a configuration translation user interface in core. The module builds forms off of configuration schemas and automatically attaches translation operations to overviews and edit forms. The most up to date work can be followed at http://drupal.org/project/config_translation with regular core patches posted here.
This would normally not be proposed but given http://buytaert.net/code-freeze-and-thresholds, there is a possibility to get new features accepted theoretically. Also Dries indicated earlier this would not be a fit for Drupal 8, but some of the rules changed since then. See #1648930-310: Introduce configuration schema and use for translation for earlier comments on that.
Finally, while we have been working on this issue, we identified and resolved dozens of core bugs and developer experience problems, all of which made Drupal better. This module is in many ways sitting across subsystems like Views. It maps sets of configuration keys to routes. These sets may be based on config entities as well. Then it generates new routes based on those, as well as tabs, config entity list operations and contextual links. These lead to pages served by a pluggable system presenting automatically generated language overviews and then automatically generated translation forms relying on the configuration schema API and typed configuration. The saved files are picked up by locale module as configuration translations.
High level architecture of the module
This is not a 100% detailed structure diagram, since that would probably be more confusing than helpful. This level should help understand what this module does and what subsystems are involved. In short, the module's sole purpose is to write config translation files (at the bottom) providing a user interface to that. Producing those user interfaces is based on configuration schemas (to structure forms) and then the placement of those pages in the right parts of the admin experience are ensured by mapping routes to the configuration names being edited. So in-context translation experiences are provided. For translator-only access, there is also an index of translatable configuration that only requires translator permissions, so every use case is covered.
This is a pure UI module that interacts with existing data from Drupal core from configuration, routes, configuration schema and locale overrides. The later is the only thing that it actually writes (or deletes) based on user interaction.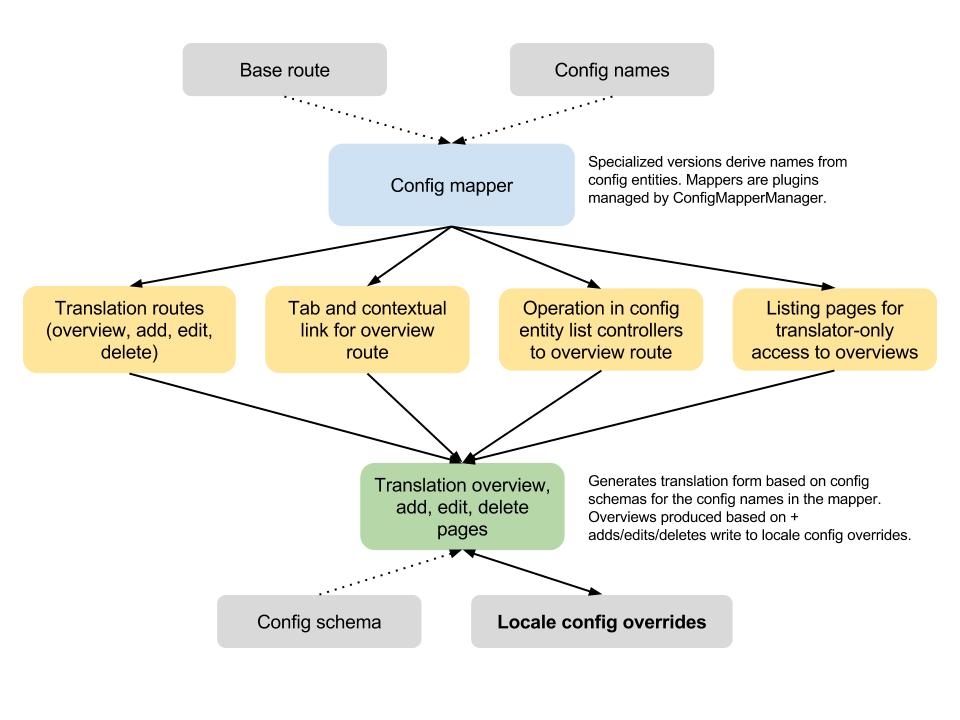 (Original copy at https://docs.google.com/a/acquia.com/drawings/d/1FBAw-x-_PdtZdco3I4aRDDI...)
Sampling of user interfaces provided
Entry points provided are in-context (tab (2), operation for entity lists (4) and contextual link (3) as appropriate). For those without other admin permissions, there is a dedicated index of all translatable configuration (1):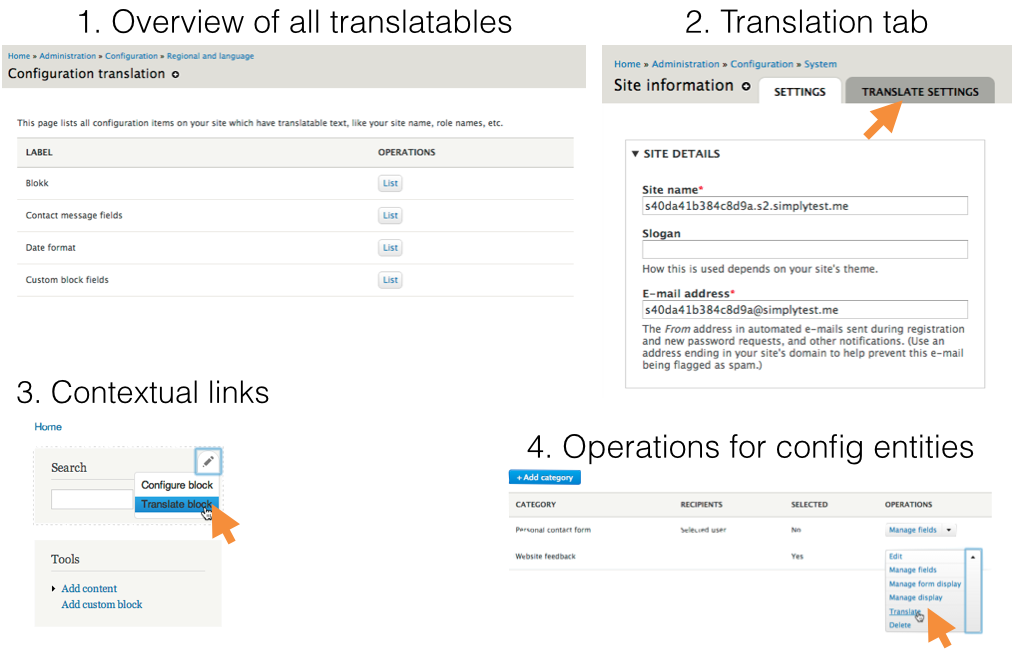 The translate operations lead to a summary screen with language translation status and actions for editing/deleting and adding translations:

The overview screen delete operation leads to a standard confirm form (no screenshot here, its trivial). The edit/add operations lead to config schema based forms: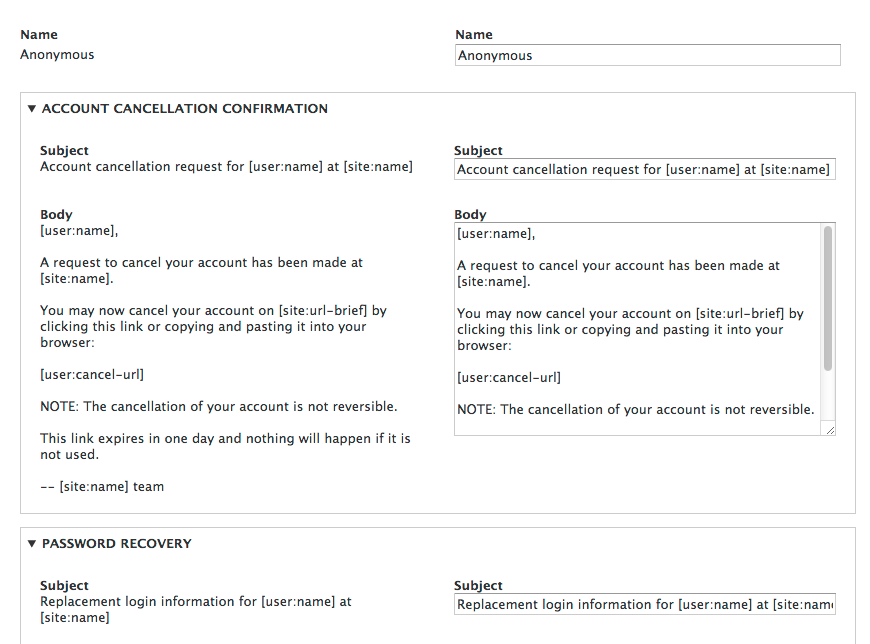 Remaining tasks
tl;dr: Commit!
We are only going in circles at this point doing different cleanups. These can be done anytime and will need to continue to adapt to core API changes anyway later on. The module has plenty of test coverage and singlehandedly found dozens of core issues since we are working on it. It has extensive phpunit test coverage and was accessibility tested (see #2003834: Accessibility fixes based on suggestions and then validated in person by @falcon03). See issues at http://drupal.org/project/issues/config_translation for ongoing work, but these can be moved to the core issue queue as well later on.
Core blockers are all fixed. There are core issues that may make parts of the code simpler. All in-code @todos are core dependent and have proper links to core issues.
Testing steps

1) Install Drupal 8 with this patch (or even better check out the 8.x-dev branch of the contrib config_translation module, eg click on http://simplytest.me/project/config_translation/8.x-1.x-dev and start testing there)
2) Enable configuration translations under 'Extend'
3) Add French and German as languages under 'Regional and language configuration' (and/or any other languages)
4) Go to 'Configuration' - 'Site information' => do the translations on this page.
5) Check that site name translates on front page (enable language switcher block for easy language switching)
6) Do the same for Views, contact categories (get multilingual contact emails!), block titles, user email text (get user's language specific block/approval emails) etc.
See also #81 through #83
Known (core) issues
Note for anyone testing, you will most likely hit the "bug" that not all config entities have a proper translation tab. That is due to #2135787: Move static config entity local tasks to local_tasks.yml and #2111823: Convert field_ui / Entity local tasks to YAML definitions which are both core *lack of conversions* of old tabs to new tabs. The old tabs are not added to the new tab system, so we cannot extend them. There is *nothing* to change in this module, as the new tab conversions happen, the translation tabs will automatically show up. Unfortunately those two issues can only be fixed at the same time, again because they convert the old tabs to new tabs for the same pages in different modules.
However although not all config entities have translation tabs, they do have several other entry points as shown above, eg. operations buttons in list controllers and the config translation index itself. So this is not something this patch could change/fix in any way, it is dependent on core conversions that did not happen yet, and the translation pages are accessible and work perfectly.
Sub tasks
Summary of sub-tasks that has been found & fixed in config_translation module, since this issue created.
Related