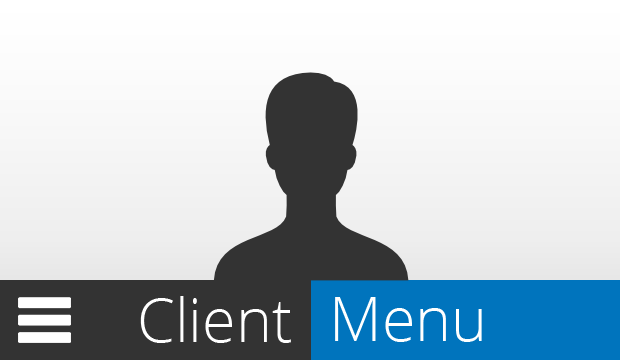 Client Menu can display any Drupal menu to selected user-roles of your choice. That allows you to build a user-friendly menu for your clients and managers. It has clean and minimalist design and it's optimized for all devices and resolutions.
Configuration Settings:
Client Menu has few configuration settings that can be accessed by visiting
Administration » Configuration » User interface » Client Menu
or by typing youstie.com/admin/config/user-interface/client_menu on your browser url.
Some of the basic settings are:
Drupal Menu to be used as Client Menu
Display/Hide Home link
Display/Hide Logout link
Sticky menu (fixed top positioning)
Mobile menu options. Whether to use jQuery TinyNav or jQuery MMenu.
The module visibility and access can be controlled from the Drupal's user permissions page.
Responsive Navigation:
Client Menu automatically adapts to the device display size and resolution. Featuring two configurable solutions for mobile navigation. The first solution converts the links to select option elements using the jQuery TinyNav library. While the second solution creates a "mobile app look-alike" menu using the jQuery MMenu library. Check the image below: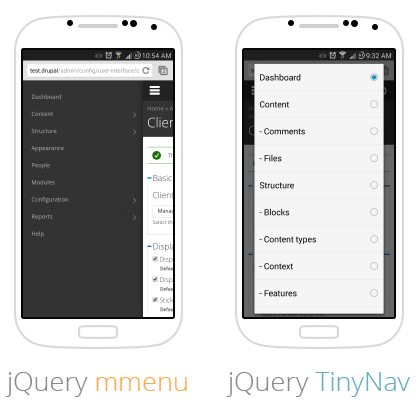 Administration Menu is built for administrators, Client Menu is built for clients and managers. Administration Menu can only display the "Management Menu" while Client Menu can be configured to display any Drupal menu. That gives you full control of how and which links are displayed.
Administration Menu dose not add any special classes to its links, while Client Menu adds a unique ID attribute (based on menu's item unique ID) and class (based on link path) to each rendered link. That allows you to style individual links (add custom icon, background, size, etc…) or select them with JavaScript and do more magic.
Administration Menu is not responsive while Client Menu is both responsive and mobile optimized.
Dependencies and required libraries:
None.
Recommended Modules:
Adminimal Administration Menu (similar experience for the administrators)
Administration Views (Replaces administrative overview/listing pages with actual views for superior usability)
Panels (Create custom administration pages for your clients)
Workbench (provides overall improvements for managing content that Drupal does not provide out of the box)
Menu item visibility (control menu item visibility per role)
Menu attributes (modify menu link attributes)
Recommended Administration Themes:
Project Information
Downloads