More Seven Theme issues: #1986434: New visual style for Seven
This issue was merged with #2022695: Content header style update. Which includes moving the breadcrumbs outside of the content header.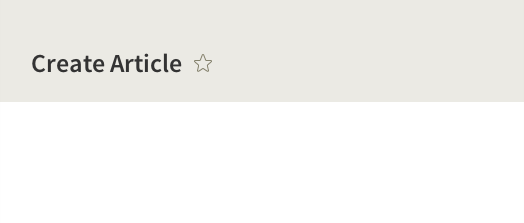 Problem/Motivation
Tables have seen little issues, the only improvement we saw was to remove some of the distracting elements and improving the whitespace.
We developed Proposal: A Style Guide for Seven. This issue aims to introduce the proposed styling for tabs to core.
To quote the rationale provided:
Left-align both primary and secondary tabs, including those attached to the overlay (see below). This is intended to resolve issue #763720: Visiblity of primary & secondary navigation by placing all tabs on the primary scan line (left margin).
The negative space created where two rounded tabs are joined can be a visual distraction. The proposed style retains the border radius but removes the negative space by "extending" the tabs underneath one another.
Secondary tabs are re-styled in an attempt to create a better connection between them and the primary tabs, while both linking them to and separating them from the content below.

The primary rationale for this redesign is the large disconnect we created by the right alignment of tabs, which were often missed. Similarly the secondary tabs because of their decreased visual prominence were missed even more. With a redesign of the overlay and modal, we can now accommodate a different style and placement of tabs.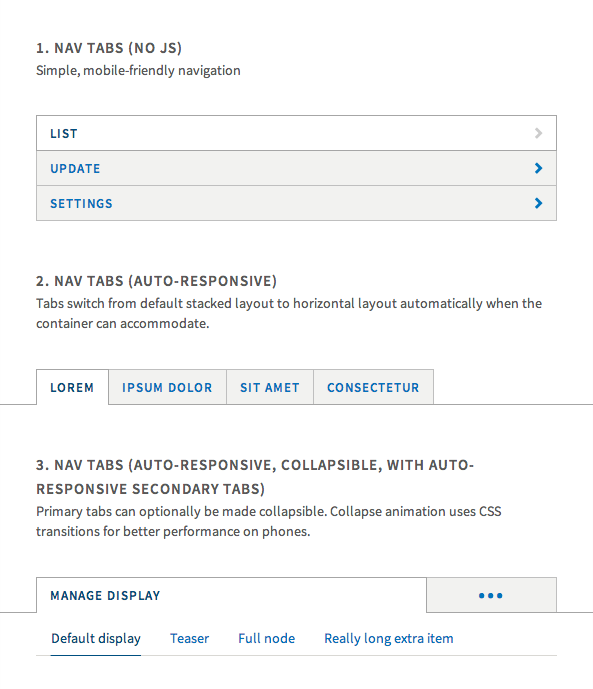 Note: This issue doesn't cover tabs when overlay is open.
This will be addressed in #1953374: Implement Seven style guide for core overlay
Test pages
admin/structure/types/manage/article/display
admin/structure/views/view/files
Related Issues
Old summary - Redesign tabs for touch screens
Meta Issue:#1870944: [Meta] Mobile friendly admin pages
This is an issue that aims to implement part of the design from the Drupal mobile navigation prototype.
Tabs need to be bigger to be touch friendly. It's common for tabs on mobile interfaces to be fluid. Taking up as much space as is available.
Here are some examples of some basic styling I did in the prototype:
I actually had to add an additional class in that contains the number of tabs so we can set percentages correctly. That's how jQuery mobile does it and it seems to be the cleanest method.
Sub-issue of: #1137800: Increase minimum size of targets for touch screens