More Seven Theme issues: #1986434: New visual style for Seven
Problem/Motivation
We've designed an update for the content header in Seven. The color and spacing changes bring it inline with the rest of the new style guide. The new "Add to shortcuts" icon has a stronger association with the task. More controversially, the breadcrumbs have been removed.
We developed Proposal: A Style Guide for Seven.
To quote the rationale provided:
In D7, the "add to shortcuts" icon is a circled plus symbol. This symbol is commonly associated with an add or create action, but there is nothing to indicate the connection to shortcuts. We propose using the star icon globally for shortcuts in Seven to make it more recognizable and understandable to a wide audience. Most people will be familiar with the use of the star icon for bookmarks/favourites from their web browser (IE, Chrome, Firefox) and from popular services such as Twitter.
Proposed resolution
In #1938418: Add Content Header component we laid the ground work for this change.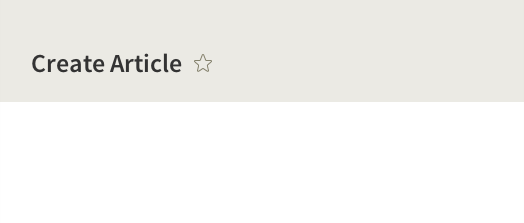 Remaining tasks
User interface changes
This proposal removes the breadcrumbs from the admin interface. With the new toolbar, which stays open between page loads, it's possible for users to traverse back up the navigation tree.
API changes
No API Changes
Related Issues