Synopsis
Bootstrap Mint is a mobile-first Drupal 8 theme, built on the powerful Bootstrap 3.x Framework.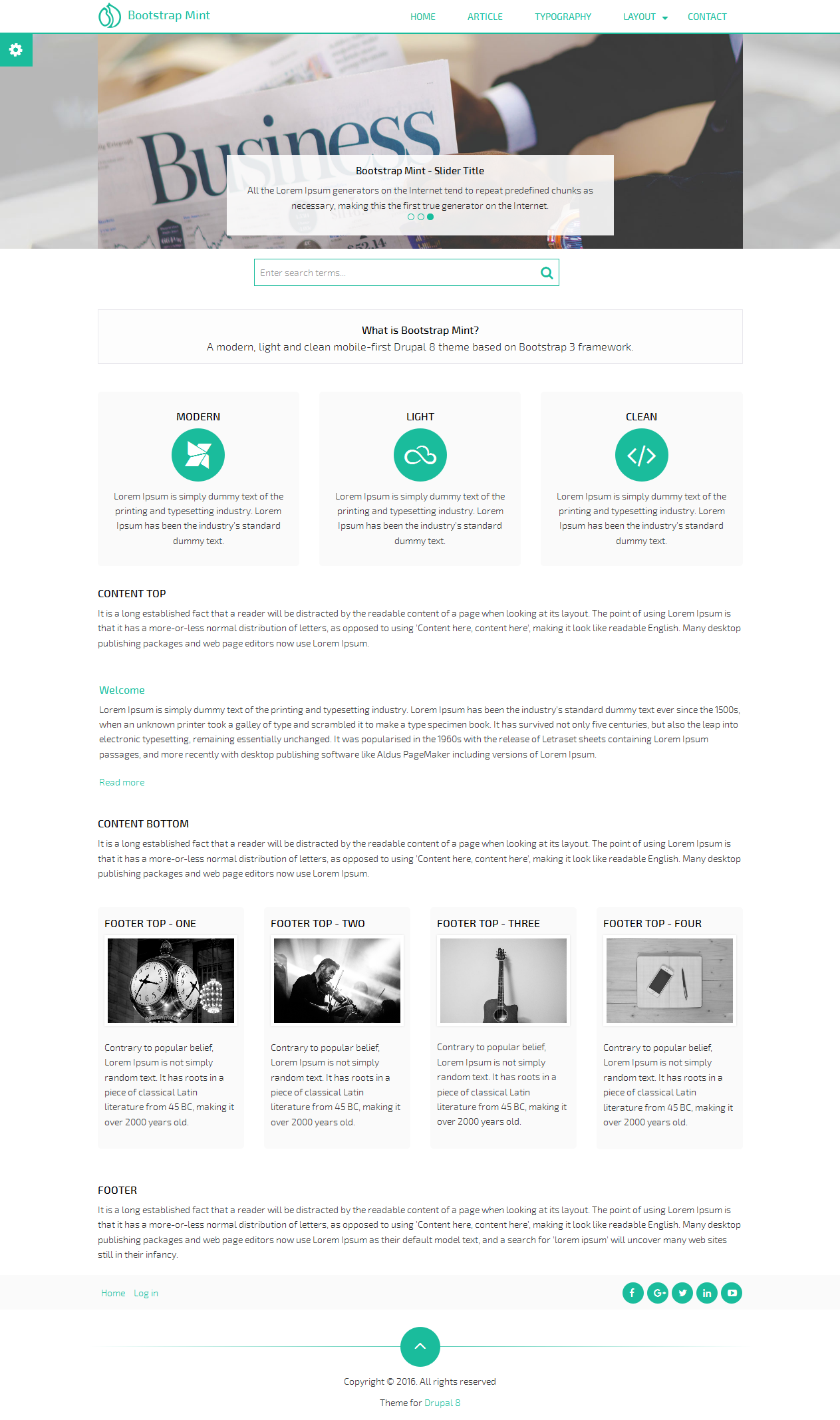 THEME FEATURES
-----------------
* Mobile-first clean & modern design
* HTML5 & CSS3
* Powerful grid system - Bootstrap 3.x
* Retina-ready icons - Font Awesome 4.x
* Google Font - Exo 2
* Responsive multi-level navigation menu
* Bootstrap carousel for slideshow
* Four columns layout
* Intelligent dynamic columns
* Customizable theme setting
and more..
THEME REGIONS
----------------
Bootstrap Mint encapsulates these 25 regions:
Sliding Header Left
Sliding Header Right
Header
Primary Menu
Slideshow
Search
Promotion Banner
Highlighted
Help
Top Widget - Left
Top Widget - Middle
Top Widget - Right
Content Top
Breadcrumbs
Page Title
Content
Left Sidebar
Right Sidebar
Content Bottom
Footer Top Widget - One
Footer Top Widget - Two
Footer Top Widget - Three
Footer Top Widget - Four
Footer
Footer Menu
INSTALLATION
--------------
1. Drupal 8 site (preferrably using Standard installation profile).
2. Place "bootstrap_mint" folder to the root /themes directory.
3. Login to the site and click on "Appearance" in the top administration menu.
4. Click on "Install and set as default" next to Bootstrap Mint theme.
Requirements
Bootstrap Mint theme does not require anything beyond Drupal 8 core to work.
Credits
Current maintainer:
* Binu Varghese - https://www.drupal.org/user/1111950
git clone --branch 8.x-1.x https://git.drupal.org/sandbox/Binu_Varghese/2752631.git bootstrap_mint
cd bootstrap_mint 
Manual reviews of other projects:
https://www.drupal.org/node/2750383#comment-11341277
https://www.drupal.org/node/2662738#comment-11340813
https://www.drupal.org/node/2648590#comment-11341333
https://www.drupal.org/node/2669792#comment-11340725
https://www.drupal.org/node/2667458#comment-11340635
https://www.drupal.org/node/2662738#comment-11344347