Bricks — is a revolutionary new way of creating rich content in Drupal. Thanks to the powerful contributions like ECK and Entity Reference, Bricks itself is just ~13 KB of code (gzipped).
In terms of concept Bricks is a new generation of Paragraphs, drop-in replacement for Panelizer and a good friend to Display Suite and CKEditor or any other WYSIWYG. Shortly, it allows you to nest field items using Drupal drag & drop UI (exactly like for menu or taxonomy items).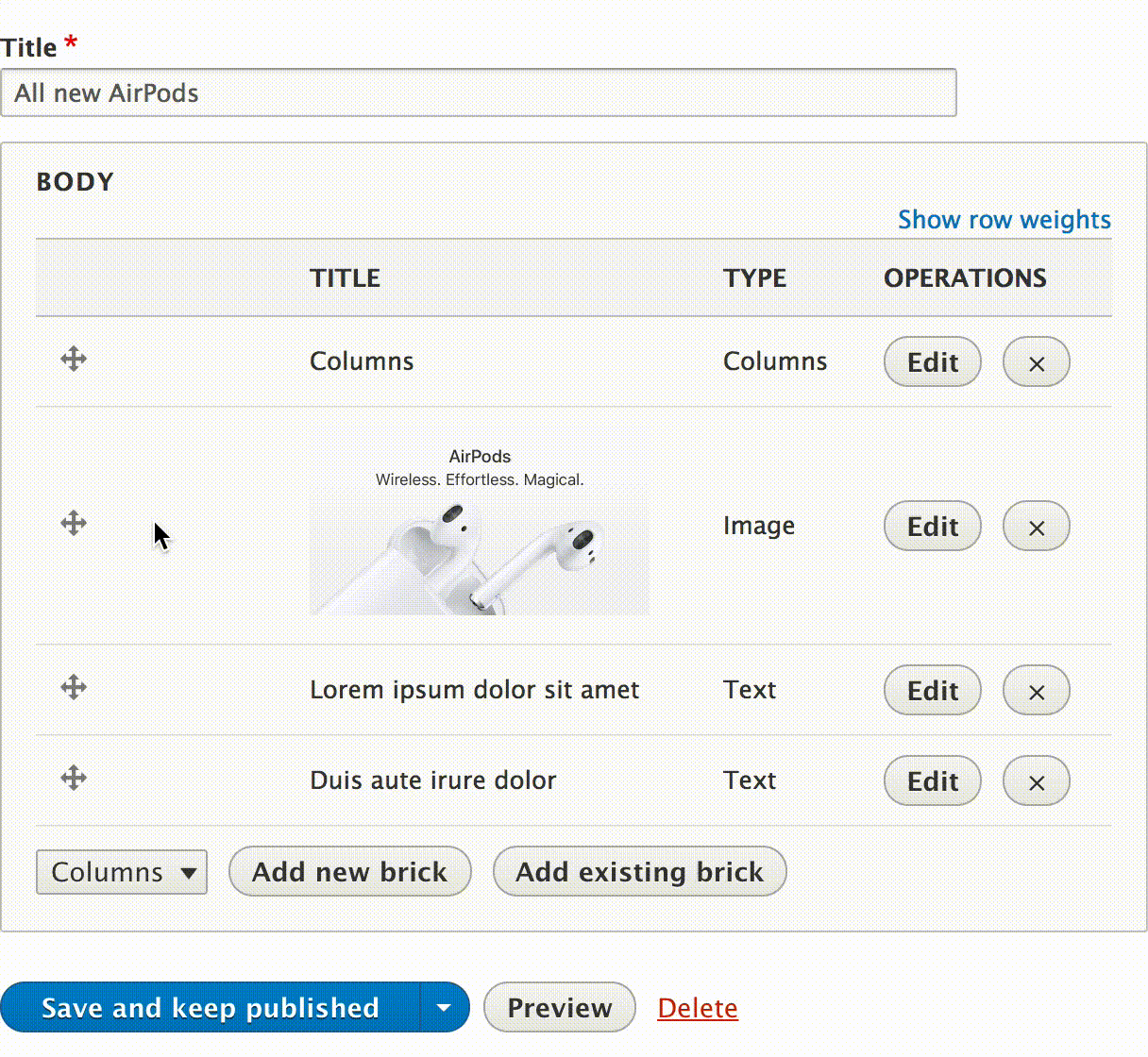 Live demo
Open pre-configured sandbox.
Click Launch sandbox and wait.
Follow the installation (all settings should be pre-filled, don't change them).
Go to Extend and install Bricks Bootstrap.
Go to Appearance, install Tweme and set as default theme.
Find a sample node and go to Edit mode to check magic out!
Finally go to Content and create your own first Bricky page!
Like it? => Support by ★ starring on GitHub or sharing on Twitter.
Video tutorial: vimeo.com/211714437.
Installation
The most easy-to-use method:
Download and install Bricks Bootstrap with its dependencies.
Download and enable Tweme (or any other Bootstrap 4 theme).
Done!
Now you can create Bricky pages (content type) using powerful preconfigured Bricks such as Text, Image, Accordion, Carousel, Tabs and others (ECK bundles). Use auto-created "All new AirPods" node as a live playground.
Video tutorial: vimeo.com/211714437.
Requirements
All new Bricks for D8 has no requirements and works with ANY entity types!
Submodules
Bricks Core
Bricks field type — An entity field containing a tree of entity reference bricks.
Bricks tree (Autocomplete) widget — A draggable tree of autocomplete text fields.
Bricks (Nested) formatter — Display the referenced entities recursively rendered by entity_view().
Paragraphs support.
Bricks Inline 8.x-1.1+ — Integration with Inline Entity Form:
Bricks tree (Inline entity form) widget — A draggable tree of inline entity forms.
Bricks Revisions 8.x-1.3+ — Integration with Entity Reference Revisions:
Bricks (revisioned) field type — An entity field containing a tree of revisioned entity reference bricks.
Compatibility
Resources
Project Information
Maintenance status: Actively maintained
Development status: Under active development
Module categories: Administration, Content, Content Construction Kit (CCK), Content Display, Fields, File Management, Filters/Editors, Media, Paging, Theme Enhancements, Utility, Views
Reported installs: 128 sites currently report using this module. View usage statistics.
Downloads: 5,258
Last modified: 19 April 2017
Stable releases for this project are covered by the security advisory policy.
Look for the shield icon below.
Downloads