Problem/Motivation
The default category of a block is currently the name of the module that provides it. For some blocks, the category name has semantic value. One example is a block provided by the menu module. For a block provided by the system module, the category name 'system' adds little additional information to an end user trying to find a block or seeking to understand what a particular block might do. As the number of modules increases with an installation, so too will the number of categories on the block placement page.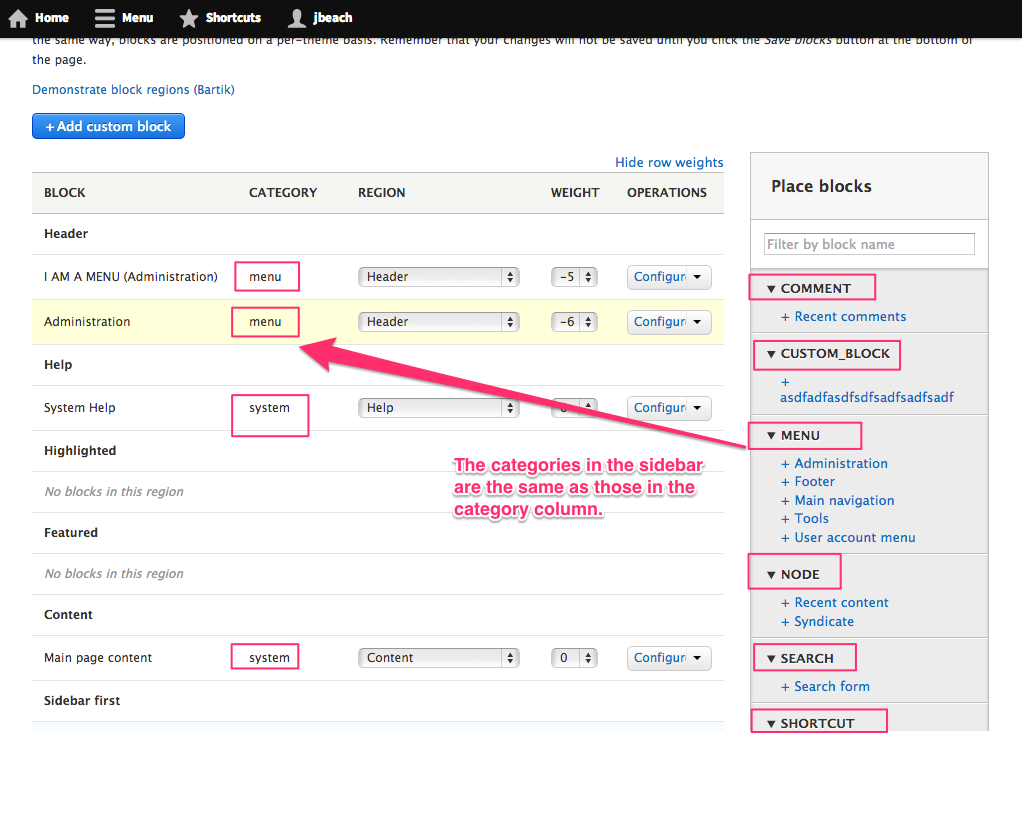 In order to avoid a fragmentation of block categories and to provide more meaningful semantic grouping of blocks, we should group them in core into more use-based categories. The pattern we set up in core will do much to shape the patterns that evolve in contrib from it.
Proposed resolution
Initial discussion of the proposed categories began in this google doc: https://docs.google.com/a/acquia.com/document/d/1YHbJ_2iGOsUsrC0FPVJLcWk...
That conversation is now moving to this issue. The proposed categories include:
Collapsed
Menus
Content blocks (Custom)
Content lists (views)
Forms
RSS feeds (hidden, no default blocks)
Widgets (hidden, no default blocks)`
Expanded
Menus

Admin
Main Navigation
User account
Secondary
Tools
Breadcrumbs
Shortcuts
Footer

Content blocks (Custom)

Site logo
Site Slogan
Main page content
Copyright
Powered by Drupal
System help
Syndicate

Content lists (views)

Recent content
Recent comments
Who's new?
Who's online?

Forms

Search
Contact
User login
Content language
Admin language

RSS feeds
Widgets
Note: The following heuristic was used to determine if the category name has sufficient "link scent" to prevent the user from checking multiple categories.
Heuristic: Fill in the blanks in the following sentence:
"[block name], is a [category] used to display the [verb form of the category + block name] [optional modifier + pronoun] your site"
Examples:
"'Secondary' is a Navigation menu used to navigate the Secondary sections of your site"
"'Copyright' is a content block used to contain the copyright information in your site"
"'Recent comments' is a content list used to list the recent comments in your site"
"'Content language' is a language switcher used to switch the content language in your site"
"'User login' is an entry form used to enter the user login information on your site"
Remaining tasks
Finalize the list of categories.
Alter the code to associate each block with its category.
User interface changes
Category names will change.
API changes
None.
Related Issues
#2060859: Make Block plugin's "category" a translatable string