Last updated 1 March 2017.
Anyone with a Drupal.org user account can upload modules and themes by using the following steps to turn on Git access for his or her account.
Caveats
All users must complete the following steps described in Turning on Git access for your account below to obtain initial Git access.
Until you have gone through a one-time approval process, you will only be able to create sandbox projects.
Turning on Git access for your account
Navigate to your user profile and click the Git access tab.
Specify your Git username in the Desired Git username field.
Once selected, this value can never change, so choose wisely! It will form the basis of URLs for your sandbox projects.
Read carefully the terms of use for Git access (including the linked resources), select I agree, and click Save. If prompted to confirm your Git username, click the Confirm button to continue or click Cancel to go back and change it.
Upon completing this form, Git user configuration information appears on the page. For more information about how to use the commands displayed, see identifying yourself to Git.
You should now be able to access the Create project form.
To use Drupal's version control systems you must agree to the following, which is copied from what appears in your user edit tab: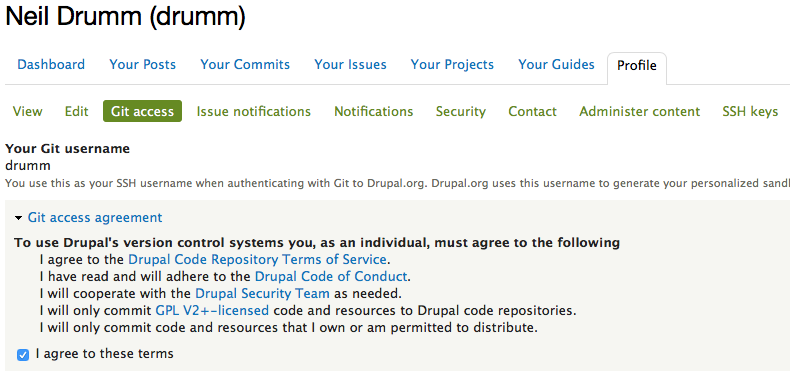 Make sure you have watched this Randy Fay's video tutorial: Using Git on Drupal.org. It can save you headache.