Problem/Motivation
In file.module, file_managed_file_save_upload() has been changed to use the new way of setting form errors, but file_save_upload() still uses a lot of drupal_set_message().
Because of this inline form errors are impossible and the upload form element is not highlighted as having an error.
This affects Drupal core as-is and is even more apparent with Inline Form Errors enabled.
In case a field is required, additionally a nothing saying error is shown as well.
This issue has been split off #1493324: Inline form errors for accessibility and UX because: a) the patch is pretty much done otherwise b) we have no test coverage for it c) we might want an API change to fix it.
Before (with and without IFE
Field not highlighted.



Not helpful extra error message when field is required.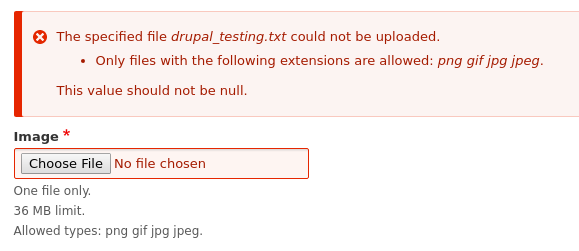 After (without IFE)
Field is highlighted and extra error is not visible anymore.


After (with IFE)

Proposed resolution
We should pass in the $form_state in a new wrapper function around file_save_upload() and use $form_state->setError() or $form_state->setErrorByName() instead of drupal_set_message().
Timplunkett notes that "almost all" calls to file_save_upload are from functions with $form_state. And even the most popular contrib modules do so.
dmsmidt, notes that if it is called outside a scope with $form_state the original backwards compatible file_save_upload() function can be used.
Remaining tasks
Contributor tasks needed

| Task | Novice task? | Contributor instructions | Complete? |
| --- | --- | --- | --- |
| Create a patch | | Instructions | done |
| Add automated tests | | Instructions | |
| Draft a change record for the API changes | | Instructions | |
| Improve patch documentation or standards (for just lines changed by the patch) | Novice | Instructions | done |
| Update the patch to incorporate feedback from reviews (include an interdiff) | | Instructions | |
| Manually test the patch | Novice | Instructions | done |
| Add steps to reproduce the issue | Novice | Instructions | |
| Embed before and after screenshots in the issue summary | Novice | Instructions | done |
| Review patch to ensure that it fixes the issue, stays within scope, is properly documented, and follows coding standards | | Instructions | |
Solution
New temporary function (internal/deprecated):
_file_save_upload_from_form($element, FormStateInterface $form_state, $delta = NULL, $replace = FILE_EXISTS_RENAME

Replaces function calls to (in contexts where $form_state is available):
file_save_upload($form_field_name, $validators = array(), $destination = FALSE, $delta = NULL, $replace = FILE_EXISTS_RENAME)

Note: the last function will stay available for BC and for cases that $form_state is not available.