Problem/Motivation
In order to implement the new create content design (screenshot of design included), the vertical tabs used for settings fields on node forms need to be re-done as a set of collapsibles. These will ultimately be rendered within a two-column layout, but this issue focuses on implementing the change from vertical tabs to collapsibles.
Current status of this patch looks like this: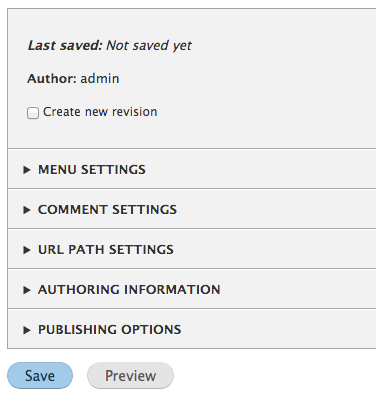 Proposed resolution
It would be nice to implement this using #1168246: Freedom For Fieldsets! Long Live The DETAILS., however at this time before feature freeze we should not reply on that, but use Core's existing collapsible form elements. Styling does not have to exactly match the proposed design at this point. The focus of this issue should be getting the feature working, looking good in Stark and acceptable in Seven. The two-column layout will be done in #1838156: Implement the two-column layout for the new create content page. The polish to match the design will be applied in #1751754: Implement new form style for Seven, based on blueprint mockups..
Remaining tasks