This is a follow-up to #1188388: Entity translation UI in core.
Problem/Motivation
Currently enabling translation for a particular bundle requires going down three level of configuration: entity type/bundle/field. And most of them have the wrong default values in place, which means that every time a new entity/bundle is added all non-shared fields need to be enabled for translation. Moreover these settings are split accross different configuration pages, which makes almost impossibile for a user not knowing the required workflow to correclty setup translation without using the help section.
Another non-UX related problem with the current approach is that it requires every entity to provide its own configuration UI, otherwise even if an entity is supported out of the box by ET, it will not possibile to translate it because there is no way to enable translation for it.
Proposed resolution
Implement a centralized workflow allowing to setup all the three level of configuration for any defined entity type and bundle and put sensible defaults in place, mainly make fields translatable by default. We agreed to start from the current D7 configuration page, add the field configuration level to it and improve the overall UX.
We want to exploit this UI to configure also language settings leveraging what already implemented in #1739928: Generalize language configuration on content types to apply to terms and other entities.
This works with language enabled alone or also with entity translation.
From #184
with entity translation enabled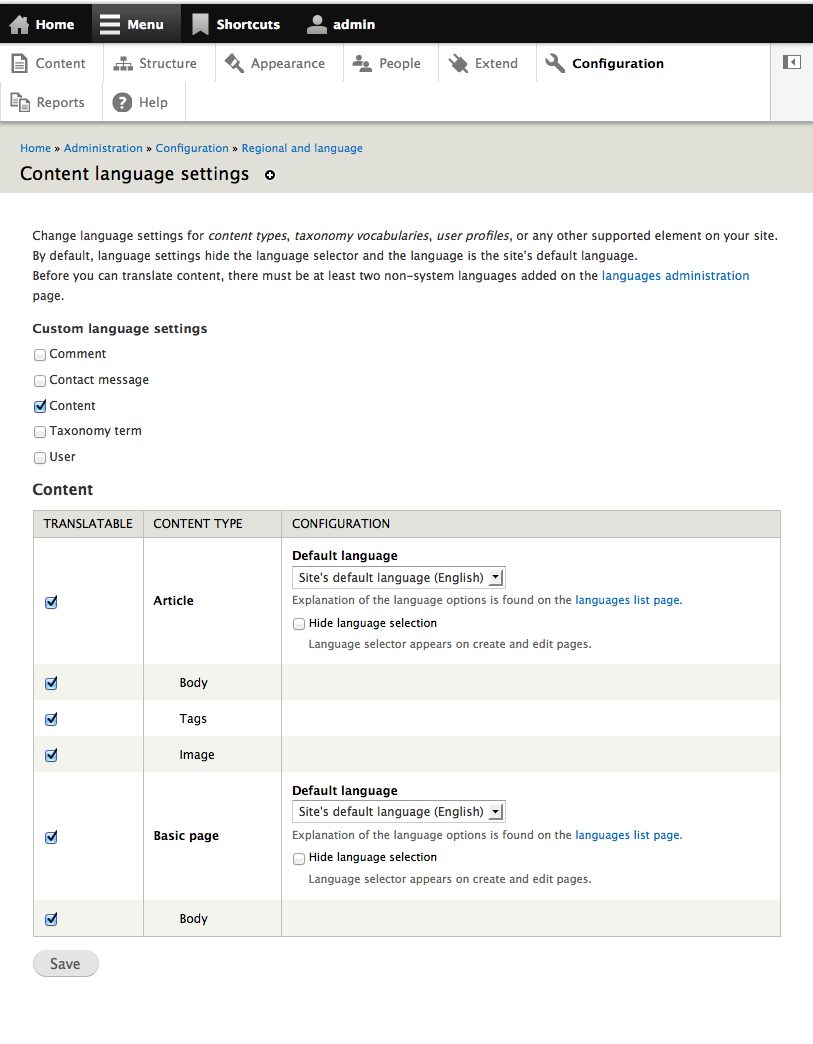 and
without entity translation enabled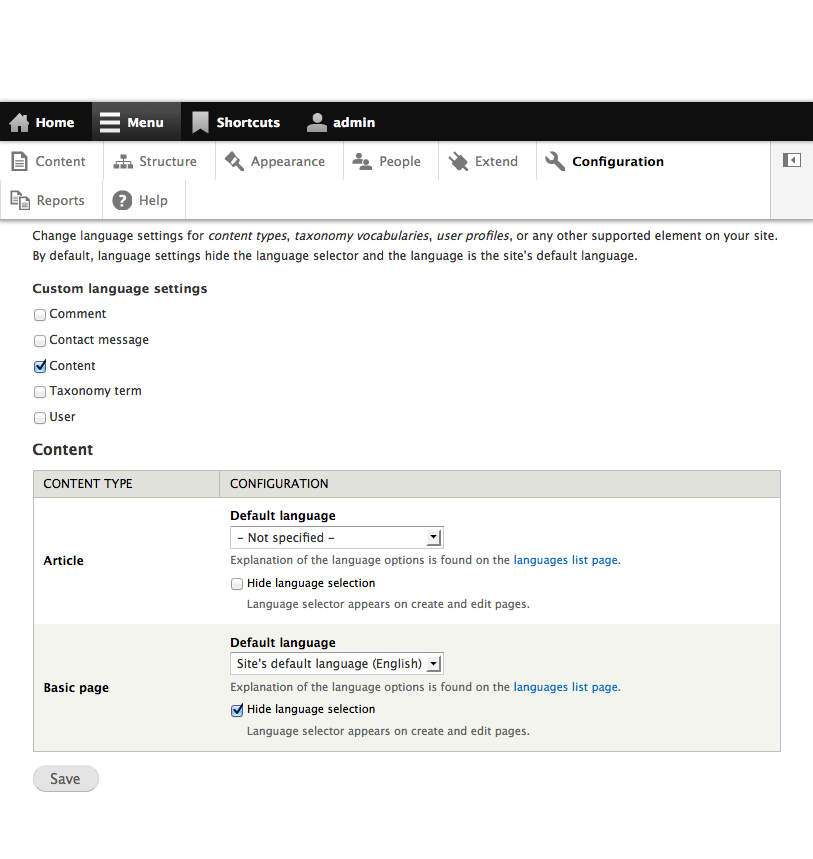 Original screenshots in #8.
Remaining tasks
Provide a set of mockups describing how the new UI should work
Implement them
Provide test coverage
Follow-ups opened
use label for= for accesssibility
code review
repurpose #1855036: ARIA and accessibility improvements in entity (content) translation settings page for ARIA
(maybe) open Q2 "Field UI formatter settings model" follow=up
identify any missing follow-ups
put new patch on server for accessibility review(not needed, and see the ARIA followup)
User interface changes
Only additions.
API changes
No particular API change foreseen.
Follow-ups
Related Issues
Background cut and pasted from et ui part 2
Global settings page for all translatable entities, alongside the per-entity ones. Follow-up #1810386: Create workflow to setup multilingual for entity types, bundles and fields opened based on #81 Currently the implementation of the entity translatability setting is a bit hacky, we need to clean it up now that #1739928: Generalize language configuration on content types to apply to terms and other entities landed. This might be done here and not part of a follow-up.