Bio:
In 2010, Chris founded OPIN to support his passion and dedication to the Drupal open-source framework and the extensive potential it offers.
Chris' contribution to the promotion and development of the Drupal technology arena have earned him national recognition and several awards. He is also a firm believer in sharing the knowledge and experience he has acquired by conducting informative seminars, teaching classes and participating in public speaking engagements.
Certifications
Acquia Certified Drupal Site Builder, 2015
Acquia Certified Developer - Front End Specialist, 2015
Acquia Certified Drupal 8 Foundations, 2016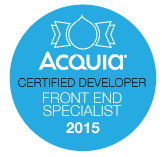 History
Member for

5 years 3 months

Documentation

At least 1 edit
Credited on 2 issues fixed in the past 1 year
chris.smith helps support and grow the Drupal community with the Drupal Association.
One person lists chris.smith as a mentor
I contributed Drupal patches
I contributed Drupal modules
I contributed Drupal themes
I contributed Drupal documentation
I help mentor new contributors