Please note: new community media development is being done on Community Media Advanced
These modules have been identified by the members of the Community Media group as modules that should only be used after mastering at least some of the modules listed in the Moderate grouping. These are modules shared by large sites with staff who can support the more complicated configurations like channelAustin, MNN, and RETN.
List of Key Modules bundled in the Starter Kit and links to the Community Media specific documentation.
---
This distribution is co-maintained by Mark Libkuman (libkuman) of Openflows and Stefan Wray (stefanwray) of channelAustin. It is one of three Community Media Starter Kits.
---
Unlike the Easy and Moderate Starter Kits, the difficult kit is used more to communicate changes needed for the layer of customizations the stations building on top of it need. Stations can override the version of a module included in the kit to a newer or older version, but the goal is to continually push those changes into the distribution to maximize collaboration and minimize costs. As custom modules developed initially for these stations mature and become well documented, they are pushed down to the Moderate Starter Kit. Most organizations running the moderate kit have selectively added some functionality found at the difficult level.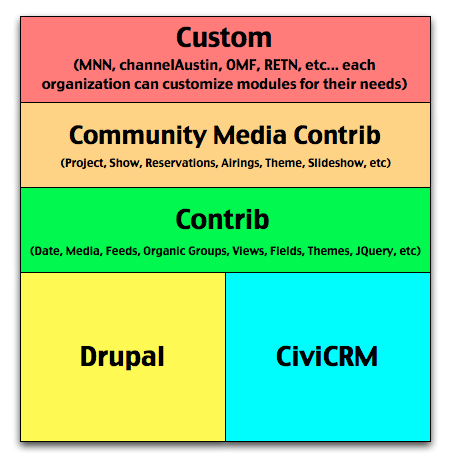 There are 3 ways to install this kit:
FULL DOWNLOAD (easiest) - Download the full package bellow and install using the CiviCRM Starter Kit option in the install process. All of the modules, themes, and libraries included in the kit will then be located in profiles/cm_starterkit_difficult/. These modules are still listed normally in the modules list and additional modules can still be added to sites/all/modules
DOWNLOAD ONLY MODULES - Download the no-core option listed under View all releases. Then add the CONTENTS of sites/all/modules, sites/all/themes, and sites/all/libraries to an existing install. This is currently the best option for adding these modules to an existing site.
DRUSH MAKE (advanced) - An alternative is to use git to clone the kit and drush to install it. That will add the modules to the normal sites/all/modules. This is by far the fastest way to configure a kit, but requires some basic command line experience.
See the Community Media Starter Kit documentation for step by step instructions for each install option.
Project information
19,066 downloads
This project is not covered by the security advisory policy.
Use at your own risk! It may have publicly disclosed vulnerabilities.
Downloads
7.x-2.0-beta7
✓ Recommended by the project's maintainer.
Development version: 7.x-2.x-dev updated 24 Nov 2014 at 23:08 UTC