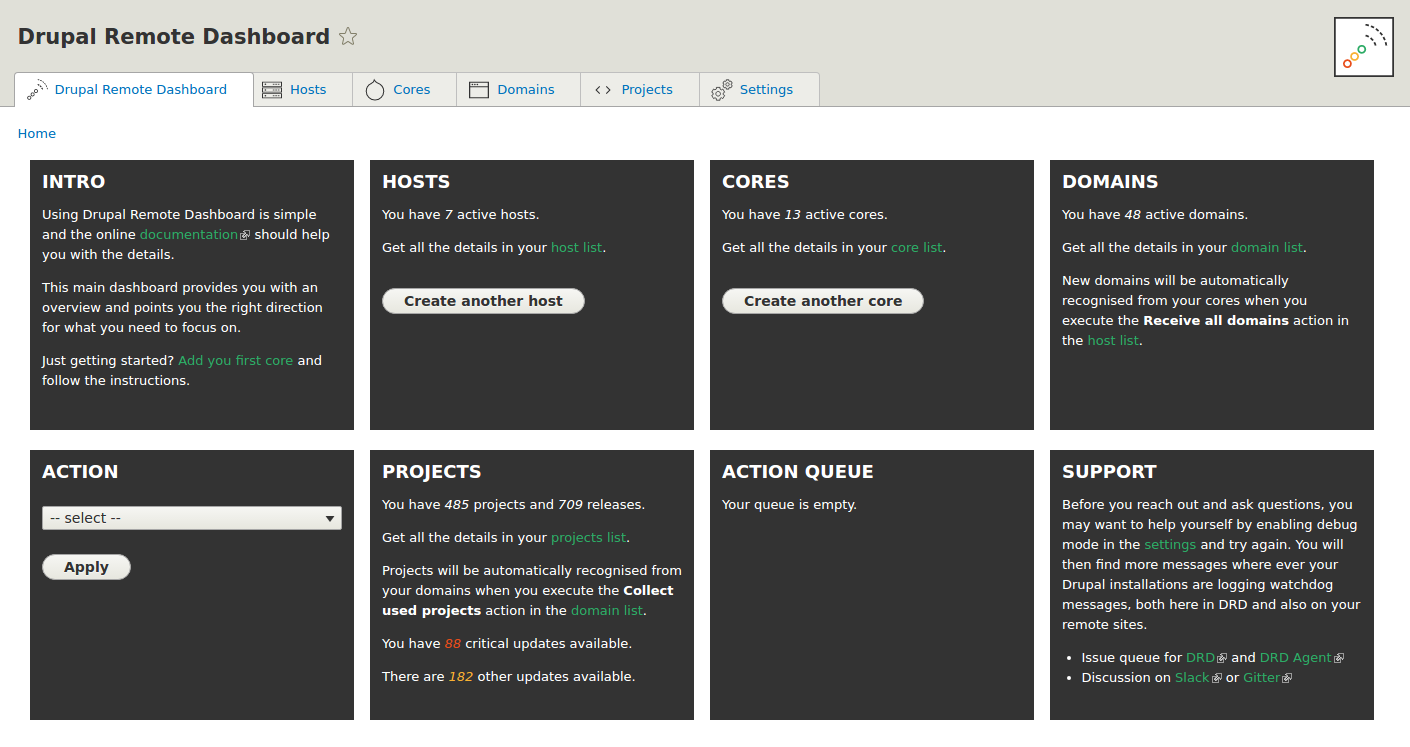 Dependencies
The main DRD module requires taxonomy, update and views, all three from Drupal core, and in addition a couple of contrib modules such as Entity views attachment and Key value field. Other than that, it has no special requirements.
Each remote Drupal site that should be monitored, requires the DRD Agent module installed and enabled. This module is a simple wrapper around the dynamically loaded DRD library which brings all the code that needs to be executed remotely.
Of course, security and privacy comes first. And we've addressed that in the product architecture from day one. DRD brings the best possible convenience without compromising security or privacy. Read more and discuss about that topic in the Security chapter of this manual.
Features
Collect information from any number of Drupal sites

Identify Drupal sites: for each monitored Drupal installation all the hosted Drupal sites are recognised automatically
Drupal core, modules and themes: collect the installed projects and their versions
Status information: collect all the details from the Drupal status report for each domain
Status widget: from the collected status information build a status widget for each domain to display grouped traffic light status levels for security, health, tuning, seo and others
Aggregate status widget: take all the status information from each domain of a Drupal installation - i.e. in a multi-site environment - and aggregate them into a status widget per Drupal installation
Blocks: collect any block from remote Drupal sites and display them on the dashboard
Error logs: collect the error logs from remote sites and review them in your dashboard

Execute maintenance tasks

Turn on/off maintenance mode
Run cron
Flush cache
Run update.php

Update Drupal core, modules and themes

This has been implemented in version 3.4 by supporting a range of different deployment methods

Miscellaneous

Change user credentials
Execute arbitrary PHP code
Rebuild job schedulers
Update translations from drupal.org
Get in touch and get involved
DRD is actively maintained and we're looking for feedback and contributors all the time. The more people participate the better. You can get in touch and involved in various ways:
Discuss and improve documentation: this is right here. Use either the comments or edit the pages directly, what ever you'd like to contribute is always welcome.
The maintainers can be contacted through their Drupal profile: