Problem/Motivation
Beta phase evaluation
Reference: https://www.drupal.org/core/beta-changes
Issue category
Task (not a feature) because the form already exists, and the patch does not add or remove any functionality.
Issue priority
Major because the Field UI is one of the most important site builder UIs, and it consistently trips users up in usability studies. This change also will make further UX improvements to the Field UI more feasible. It is not critical because the current UI already exists in Drupal 7.
Prioritized changes
The main goal is to improve both the usability and accessibility of this important form, so it is a prioritized change for the beta phase.
Disruption

This change will require rework to existing modules that alter the manage fields form.
Many tests will need to be updated because they include assumptions about the current UI.
The disruption to core will be limited to the Field UI itself.
The impact of this change is clearly greater than the disruption, so this is a good issue to complete during the beta.(@webchick in #52, @xjm in #167.)
Proposed resolution
Remove the "Add new field" and "Reuse existing field" rows from the manage fields table.
Add a local action button for "Add field".
"Add field" provides a form where the user:

Enters the field label, which automatically generates a machine name as per usual.
Selects either "Create new field" or "Reuse existing field", which reveal options with states...

For "Reuse existing field," the option reveals a selection box with the existing fields.
For "Add new field," the option reveals the field type selection box as well as the field settings (like maximum # values, entity reference entity type, etc.)
For both, the widget selection element is shown.

For now, submitting this form takes the user to the existing field instance settings form.
Test steps
Go to content types -> basic page -> Manage fields
Add a field
UI changes
New button on manage fields

New add field screen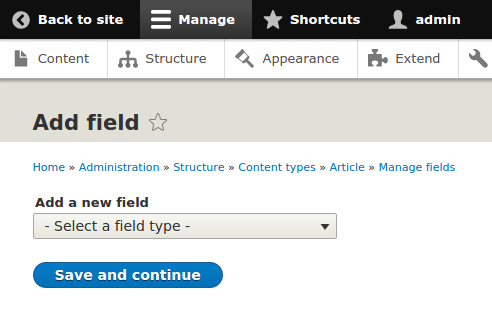 Error message when the field exists