Professional Info
Industries Worked In:
Frontend development, Backend development, Advertising, Graphic design, Web design, Web development
Bio:
Worked in a digital agency, a development studio and founded my own company. 7 years of experience in Drupal, backend/frontend development, UX/UI design, server administration. Self-taught. Won awards. Attended and organised Drupal events. Spoke at them.
I lose it on poorly structured code and bad alignments.
Sports guy. Food guy.
Certifications:
Acquia Certified Drupal 8 Developer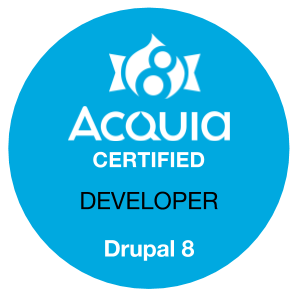 History
On Drupal.org for 5 years 4 months
Drupal Contributions:
Active member of Drupal association Slovenia. Helped organise Drupal camps in Slovenia in 2013 and 2014. Providing support on Drupal Slack channels and to people around me in need of help.
Areas of Expertise:
Drupal Site Building
Drupal Module Development
Custom Drupal module development
Drupal Theming
Drupal architecture
Credited on 16 issues fixed in the past 1 year
jzavrl helps support and grow the Drupal community with the Drupal Association.
2 people list jzavrl as a mentor
I contributed Drupal patches
I contributed to Drupal issue queues
I contributed to Drupal.org
I reviewed Project applications
I provide Drupal-related services
I give support on IRC
I help mentor new contributors