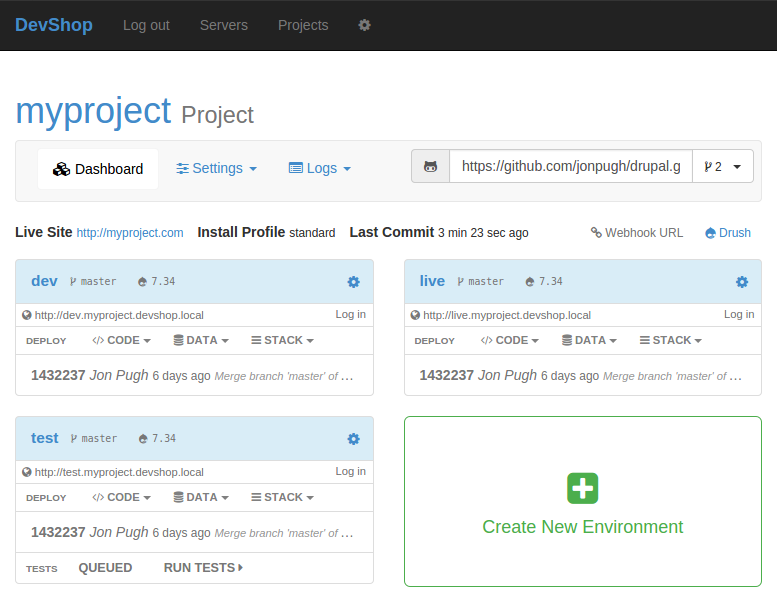 Open Source Cloud Hosting for Drupal.
Current Version: 0.3.1
Host all of your Drupal projects, with unlimited environments each, on one or many servers. Use the git host of your choice and follow your own branching strategy. Web UI for Deploying Code from any branch or tag, deploy Data from any environment, Commit Features, Run Tests, and more.
Fully featured cloud hosting environment.
Built in Drupal & Drush.
ANNOUNCEMENT
We are moving to Semantic Versioning, and the project has been reorganized.
Development has moved to GitHub: https://github.com/opendevshop/devshop
All the code in this repo is not drupal, so it makes sense to move it. DevMaster and the various drush and contrib projects will remain on drupal.org.
The drupal install profile has been separated from this project as the DevMaster project.
Quick Links
DevMaster
DevShop Hosting | DevShop Provision | Provision Git
Installation
The only way to install DevShop is with the new standalone install.sh script. You can read the script and attempt to do it manually if you wish to learn about DevShop.
The script is designed to work on any Debian or RedHat/CentOS server. Please file issues if you have any problems with it.
Setup
Pick a domain and server name to use for DevShop, for example "devshop.thinkdrop.net"
Fire up a linux server somewhere, using that domain name as the server's hostname. (Ubuntu 12 or 14 are most likely to work without issue, however we want to support most Linux OS. If you have problems in other OS please submit an issue.)
Add a DNS record that points your domain name (devshop.thinkdrop.net) to your server's IP address.
Add a second DNS record that points a wildcard subdomain of your domain (*.devshop.thinkdrop.net) to your server's IP address. This allows you to setup new sites without having to mess with DNS every time.
Login to your server as root, and retrieve and run the install script:


root@devshop:~# wget https://raw.githubusercontent.com/opendevshop/devshop/0.3.1/install.sh
root@devshop:~# bash install.sh
NOTE: You have to switch to root and then run the command. There are issues if you try to `sudo install.sh`.
Chasing Head
The 0.x branch install script will install the latest devshop from git source.
Use https://raw.githubusercontent.com/opendevshop/devshop/0.x/install.sh if you wish to do this.
Vagrant
There is now a vagrantfile for DevShop that makes for an easy way to test it out and to contribute to the development of DevShop.
It is included in this package. To use, clone this repo and vagrant up:
me@laptop ~ $ git clone http://github.com/opendevshop/devshop.git
me@laptop ~ $ cd devshop
me@laptop ~/devshop $ vagrant up
The devshop instance will be available at http://devshop.local, using IP 10.10.10.10. You must save a record in your /etc/hosts file to access it:
10.10.10.10    devshop.local
Components
DevShop consists of a number of other projects:
DevShop Core
DevShop Contrib
State of Development
DevShop is in rapid development. We are working hard to reach a 1.0 release, however it is a stable system.
To track all open issues see #2218539: [META] DevShop 1.0.0 release.
DevShop has been used by a large development team with many projects since early 2012. It is currently functional, relatively stable, and very useful.
Compatibility
Aegir
The supported hostmaster and provision branch is 6.x-1.x.
The installation script inside this project will setup DevShop with the correct Aegir version.
Drupal
DevShop & Aegir can currently host Drupal 5, 6, and 7 sites. Drupal 8 is coming soon with Aegir & DevShop 2.0.
Support
ThinkDrop Consulting, the creators of DevShop, are available for paid support, installation, or simply questions. Feel free to contact any of the committers in IRC in the #aegir or #devshop chatrooms, or contact us at http://thinkdrop.net/contact.
Supporting organizations:
Downloads