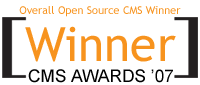 Packt Publishing has announced the overall winner of their 2007 Open Source CMS Award and it's Drupal! This first place award comes with a cash prize of $5,000, the highest of the cash prizes offered, which will be used by the Drupal Association to help the Drupal project flourish.
When asked about the award, Dries Buytaert (Drupal project founder) said, "The past year, we have worked hard to make Drupal more powerful and easier to use. It is great to see the Drupal community receive recognition for their hard work and dedication." Congratulations, team!
The forthcoming Drupal 6.x builds on the features recognized by this award, and offers a number of compelling improvements, including:
* Enhanced localization and i18n support
* Performance improvements and Improved Caching
* OpenID Client Support
* Task automation with Actions and Trigger system
* Many usability enhancements
As well as the first place overall finish, Drupal also finished second in the two other categories it was nominated in: Best Open Source Social Networking Content Management System and Best PHP Open Source Content Management System.
Congratulations go out to all the other finalists. The prize is an indication of excellence in software and fantastic community. Many thanks to Packt Publishing for generously supporting open source software.