Professional Info
Industries Worked In:
Community, Technology Insight, Pharma, Healthcare, Tech Startup, Music, Law, Finance, Business Solutions, E-commerce
Bio:
entrepreneur, open source evangelist, technologist, film geek, traveler, learner, networker, community organiser
History
On Drupal.org for 9 years 1 week
Drupal Contributions:
Host and Lead Organiser DrupalGov Summit, Mumbai 2016.
Organising team DrupalCon Asia, 2016.
Co-organiser DrupalCamp Mumbai 2015. Feb 7-8.
Co-organiser DrupalCamp Mumbai 2014, Feb 8-9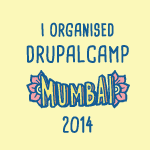 Co-organiser DrupalCamp Delhi 2012
Areas of Expertise:
evangelist
Community builder
Drupal Solutions Company Founder
Solutions Architect
Business Analyst
Account Manager
Product Owner
Drupal Events:
DrupalCon Munich 2012
DrupalCon Austin 2014
DrupalCon Los Angeles 2015
DrupalCon Barcelona 2015
DrupalCon Asia 2016
DrupalCon New Orleans 2016
Credited on 1 issue fixed in the past 1 year
AniG helps support and grow the Drupal community with the Drupal Association.
I contributed to Drupal issue queues
I contributed to Drupal.org
I helped organize DrupalCon
I help in the Drupal support forums
I provide Drupal-related services
I help mentor new contributors