Use HTML5 to display PDF files if users don't have pdf plugin for their browsers.
Thanks to pdf.js project by Mozilla.
With this module you can use pdf.js to display PDF file all the time or only use pdf.js when visitors don't have pdf reader plugin.
Use this module with apachesolr_file (recommend with file_entity 7.x-2.x), you can build your owned online library.
How to install pdf.js
Download pre-built pdf.js from here and extract is into your Drupal libraries directory (Drupal 8 uses /libraries instead of /sites/all/libraries). The folder in your libraries folder must be named to pdf.js. Make sure your directory structure like this: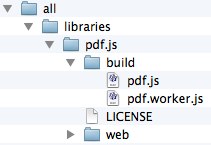 Project Information
Downloads