Problem/Motivation
The overall goal is to make more site edit/build functionality available directly on the frontend of your site ("turning Drupal outside in"). A current example of this is the "Edit" button (toggle) top right in the toolbar:

This button in itself has usability issues but new developments like #2724819: Create experimental module for place block on any page feature are adding their own seperate links to the toolbar. Which obviously does not scale well:

We need to find a way to scale this pattern so that besides content editing we can also expose interactions for "add new", "rearrange" and others. The general idea could be to have a global View/Edit/Build toggle for example which could show a sidebar with applicable tools.
Proposed resolution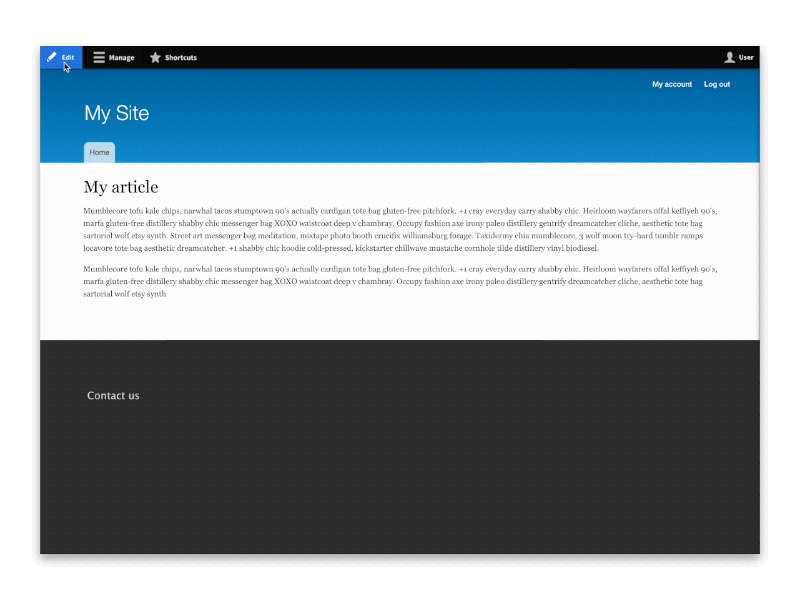 Image links to attached video
Trigger an "edit mode" in which links are disabled but all blocks are tap/clickable. Taps/clicks trigger an off-canvas configuration tray which separates content and configuration tasks into two tabs (the above prototype shows the toggle and off-canvas tray integrated with the experimental "place block" module).
Remaining tasks
- List potential interactions to expose
- Rank them: what are the 80% use cases, which are more on the side of 20%?
- Define an initial scope
- What are existing contrib solutions in this space?
- Explore designs options
- Prototype, test, iterate
- Decide on the preferred design
- Write up a spec
- Write the patch (in a followup issue?)
User interface changes
See child issues.