Last updated 19 November 2014. Created on 23 May 2008.
Edited by Freightdev, devenpro, andrewsproject, kingandy. Log in to edit this page.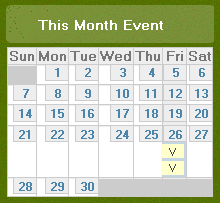 The Date and Calendar modules are a suite of modules that work together to handle dates and calendaring. They include a Date API, a Date module to create CCK date fields that can be added to any content type (Entity Bundle in D7), and a Calendar module that works with the Views module to display dates in a calendar.
Your assistance in making sure this guide includes useful documentation is very welcome. Please feel free to add new topics and flesh out existing ones. Just be sure you note on each new page which version of Drupal it pertains to.
Please don't add comments to this top level page, add them to the page they apply to or create a new page with a new topic. Comments specific to certain versions of Drupal start to make no sense when we move on to the next version. Also, this guide is not the right place to post bug reports or support requests, they belong on the Date or Calendar issue queue, where they can be fixed and then closed, not here where they will still show up long after the bug has been fixed, confusing future readers. Comments like these will be deleted.
Looking for support? Visit the Drupal.org forums, or join #drupal-support in IRC.