Problem/Motivation
We need better markup for mini pager in terms of semantics and accessibility. Also, we need to follow our Drupal 8 style guide.
Proposed resolution
Move as much markup as possible into the views-mini-pager.html.twig Twig template.
Follow Drupal 8 CSS Guidelines for CSS class nomenclature.
Use Drupal's own visually-hidden class in combination with Aria attributes like aria-labelledby and aria-hidden to improve the way pagers are read aloud by screen-readers.
We have made some discussion regarding this here #1912608: Update pagination markup for new CSS standards and improved accessibility
Remaining tasks
User interface changes
-
API changes
-
Screenshots
Bartik
Before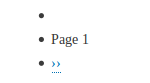 After

Stark
Before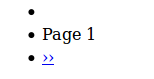 After

Seven
Before

After