Problem/Motivation
Based on @webchick #1952394-192: Add configuration translation user interface module in core:
Went to admin/structure/views, clicked "Translate" under operations.
Only thing I can do from admin/structure/views/view/content/translate is edit the English translation. Right. I need to set up a language first. Always forget to do that when I test multilingual patches. (Help page didn't mention this step either.)

@TODO: Maybe show a class=warning DSM that they only have one language enabled on screens like admin/structure/views/view/content/translate that links off to the languages admin page so I don't get blocked.
Steps to reproduce
install drupal 8 head in english
enable configuration translation (under Extend)
go to a config translation page.. like admin/config/system/site-information/translate
Beta phase evaluation
Proposed resolution
Show a Drupal message that another language needs to be set up IF the language of the config is the only language set up on the site (nothing to translate to). Note that this does not necessarily mean the language is English, it may be something else.
Remaining tasks
Contributor tasks needed

| Task | Novice task? | Contributor instructions | Complete? |
| --- | --- | --- | --- |
| Update the issue summary noting if allowed during the beta | | Instructions | done |
| Add steps to reproduce the issue | Novice | Instructions | done |
| Embed before and after screenshots in the issue summary | Novice | Instructions | done |
| Review patch to ensure that it fixes the issue, stays within scope, is properly documented, and follows coding standards | | Instructions | done |
User interface changes
Conditional message shown.
before
after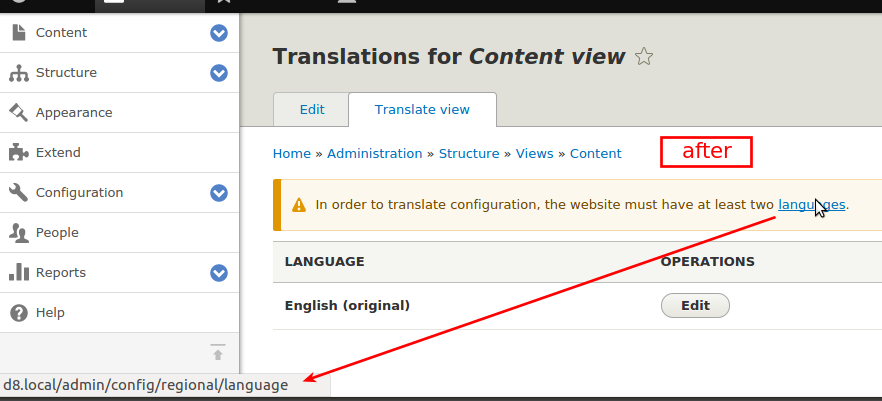 API changes
None.