Overview
Describes Moodle tables and table relationships to Drupal Views, so that Moodle data can be displayed in a Drupal site using Views.
Works with the existing Moodle Connector module to access the Moodle database. Drupal user to Moodle user can be linked by username, or by UID if using something like https://github.com/cannod/moodle-drupalservices/ to link the databases and provide single-sign-on.
Example Site
Site using the module: http://www.eziggurat.co.uk
Courses and Sample Courses are Views of Moodle data, which can include details of the "teacher" or "author" of a course as well as many of the course fields: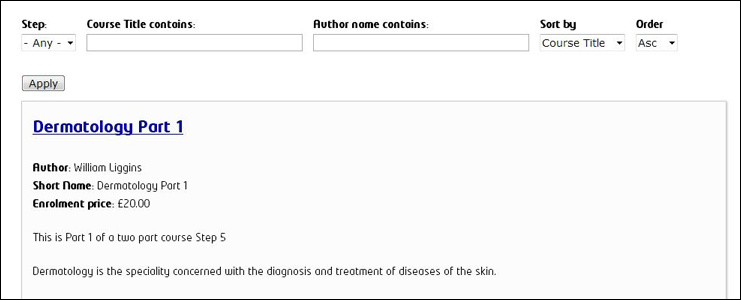 (the "steps" are Moodle course sections, from "step 1" to "step 5", with the course in "topics" format).
Views for "My Courses" and "My Grades" on user account pages:

(the certificate generation link is not defined by this module, nor is the PDF generation code).
Details
Project page: https://drupal.org/sandbox/Fonant/2030051
Checkout: git clone --branch 7.x-1.x http://git.drupal.org/sandbox/Fonant/2030051.git moodle_views
I've tidied the code as well as I can, to keep Pareview happy: http://pareview.sh/pareview/httpgitdrupalorgsandboxfonant2030051git. Most of the errors are down to non-CamelCase class names and methods.