Problem/Motivation
There is this great language selection configuration feature on content types that we recently improved greatly:


However, with language supported on vocabularies, taxonomy terms, files and other entities, we need a way to configure this kind of thing on other entities. Taxonomy terms or vocabularies do not have bundles, but it would make tons of sense to have this kind of setting on vocabularies for their children terms.
Before of the vocab edit:

Proposed resolution
The main complication in this is how the values are stored and applied. Likely we'll need to keep some custom wrapper / accessor code for node types and vocabularies and reuse the UI from one place.
Remaining tasks
Remaining: Verify the issue summary is correct in terms of api changes, and update issue summary saying if documentation needs to be written
Done: code style looks good
Done: have gotten a few code reviews in #25 by fago and #50 by planch, and #102 (plus some early looks by webflo, Berdir and LoMo). Items from those reviews were addresses. And a final look by Gabor in #126
Done: ui review. in #33 has a UI RTBC from Bojhan
User interface changes
Currently the ui with patch looks like:
In the content type edit, there is an improvement to add (TheLanguage) which shows what the current site default language is in the drop down select and also in the summary in the vertical tab.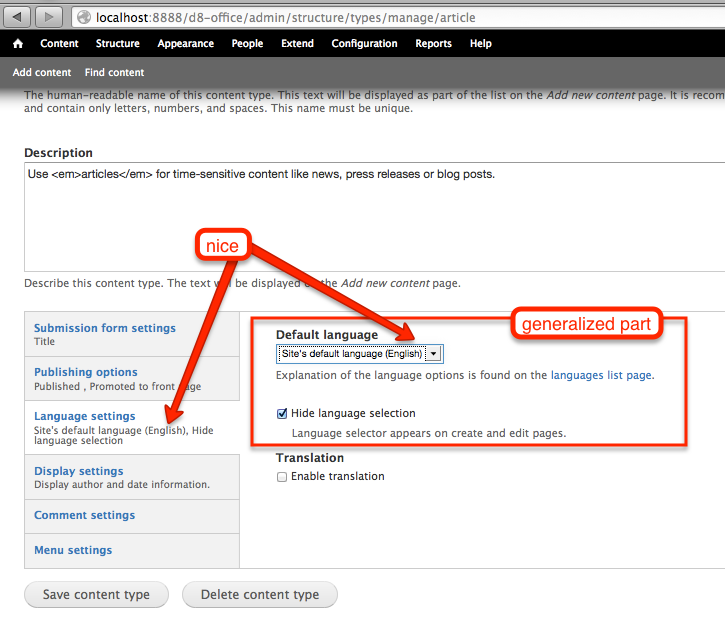 and:
In the vocab edit (for example), it reuses the generalized ui, and has a label the entity sets.


(from #127)
API changes
(API changes/additions that would affect module, install profile, and theme developers, including examples of before/after code if appropriate)
Postponed on this issue
#1810386: Create workflow to setup multilingual for entity types, bundles and fields is postponed on this issue.