The Slidebox module provides a JavaScript-based "Slidebox" - a box which provides a link to the next page in a sequence, which slides out when the user reaches the bottom of the current post.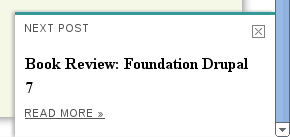 This feature is common in many websites, but is most recognisable in the New York Times website.
This module is undergoing active development - if you have any suggestions, please create an issue!
2.x Update
The 2.x branch requires the Regions module. Slidebox now creates a region that you can drop blocks, panes, views, etc. in as you wish. The goal is to be as flexible as possible.
Currently, the 7.x-1.x branch does not work with Panels, Display Suite, and presumably any other similar display management module. This should be fixed in version 2 - see #1372260: Let's make this more of an API and #1153274: Make Slidebox work properly with Panels.
Sponsorship
This module is sponsored by VMdoh.
Project Information
Downloads