"Module status" creates an overview of the bug status for all active modules of your Drupal site. It therefore polls the number of critical bugs from https://www.drupal.org/project/issues as XML/RSS and displays them on a single page available to administrators.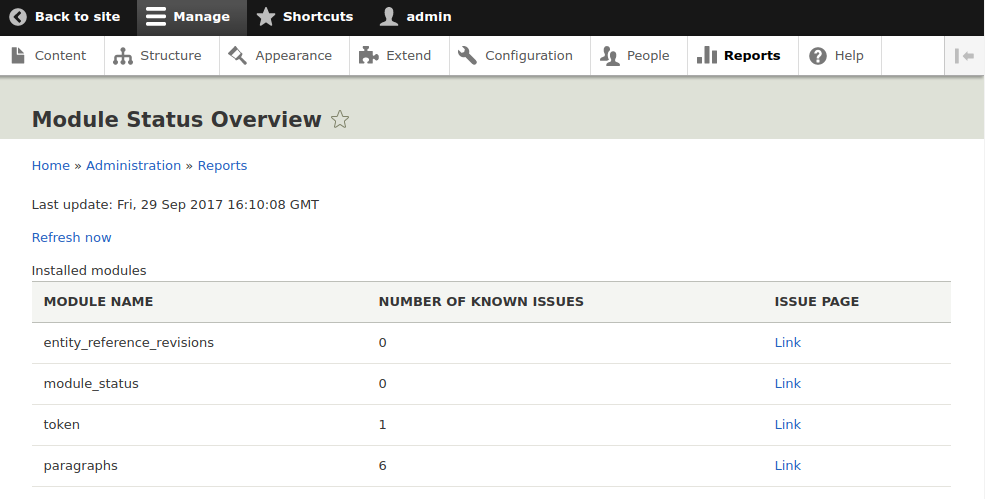 "Module status" helps admins to get an overview of possible problems coming with active modules. This should help to evaluate possible problems collectively and foster the process of fixing bugs in the community.
Future versions
Upcoming versions will cover the following features:
show also bugs with lower citicality than "Critical"
send notifications about new critical bugs to admins of a site
save the review status of a bug for each admin, that they can see if a bug was already reviewed regarding it's relevance for the running site
Credits
Thanks to Rouven Volk we were inspired with this idea at DrupalCon Vienna 2017 and created this module.
Supporting organizations:
Project information
Downloads
8.x-1.0-alpha3
✓ Recommended by the project's maintainer.
fixed a important bug with custom modules and removed the logging functionality
Development version: 8.x-1.x-dev updated 3 Oct 2017 at 20:24 UTC