Problem/Motivation
In #1802278: Add a Date component to core, we added support for the IntlDateFormatter class, which was added in PHP 5.3. This class provides locale-aware date formatting for PHP dates. When a Drupal site is running PHP is compiled with INTL support (http://ca2.php.net/manual/en/intl.installation.php), DrupalDateTime::format() attempts to automatically switch to IntlDateFormatter instead of the longstanding date_format() used in Drupal 7 and before.
We use the INTL date formatter if you have a default country set - which will be the majority of sites. If you leave this unset in the installer or use drush and don't explicitly set this, then we use PHP date formatting (how Drupal 7 and older worked).
The INTL/PHP date switching is not well-tested and has numerous bugs that will affect a site with INTL support:
If you configure all your data formats and then set a default country or unset the default country all your formats will change. When configuring a date format you only get to set up the currently active format.
Currently, only PHP formats can be translated. The INTL class does handle some forms of translation, but we've still removed the ability to have different Drupal date formats depending on translation.
f you have a view with a custom_date_format then this will break if you switch.
It is difficult to provide a migration path for the switch from PHP to INTL date format
Furthermore the move from PHP date format to INTL is interesting in terms of migration, and custom date formats are currently not migrated for this reason. From the Known issues with the Drupal 6 -> 8 migrate path:

Only the default, short, medium and long formats are migrated. All other formats default to the fallback format and need to be reconfigured after migration.
Proposed resolution
Remove the automatic switching to INTL dates and consistently use the PHP date format.
Remaining tasks
Patch is RTBC.
The following issues may be resolved by this patch:
User interface changes
Before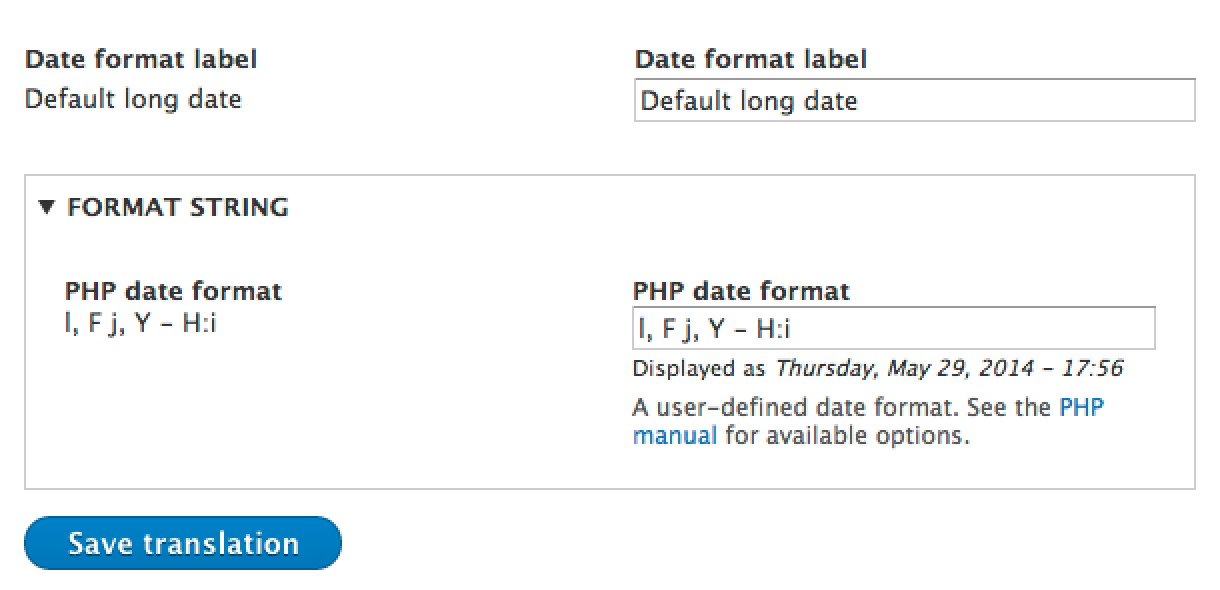 After

API changes
Yes. (List here.)