Download

twitter-7.x-5.0.tar.gz

tar.gz
46.87 KB
MD5:
e34331a6705509e58ce9d564e3b9e278
SHA-1:
87c224c8d05004523e9f578d6cecfdcc03649e32
SHA-256:
0ca2c5cf4c7e6749739f4283c5e9a4da562b47a13ee24c68ad3db02b62667be9
Download

twitter-7.x-5.0.zip

zip
57.23 KB
MD5:
cb426537d0c8dec3c10d9b9987a85ed8
SHA-1:
11a84d153b648545ca55489b07fb210c8b834925
SHA-256:
e177ddc465c829ccffd1919fcd59cbe983705cb03d3d243ac4579d0538791d75
Release info
Created on:
24 Dec 2012 at 00:43 UTC
Last updated:
9 Sep 2015 at 19:20 UTC
Release notes
Reincorporated twitter.lib.php to the module so Libraries module is no longer required. This came up as a discussion at #1853794: Please consider restoring twitter.lib.php to the Twitter module.
Also hugely improved the Twitter accounts management so they are now centralized at admin/config/services/twitter. Both authenticated and non-authenticated accounts can be added. See more details at #1847406: Move account listing to the module settings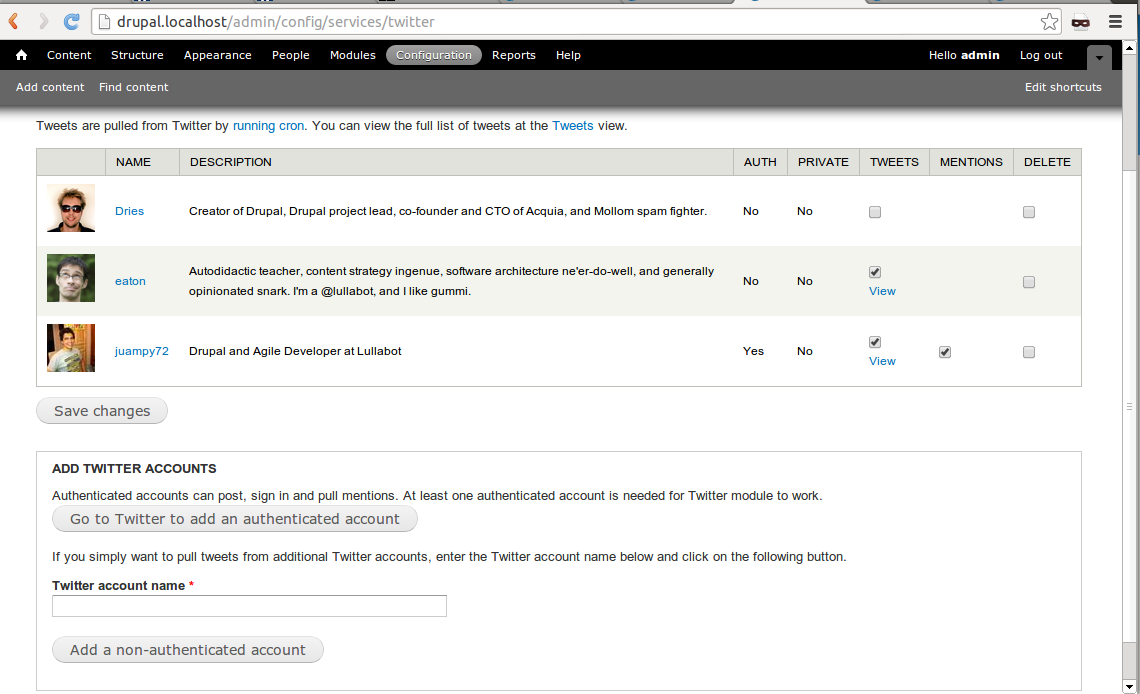 This work was carried out in the following issues:
Dependencies
The selected release is the release that will be used for automated testing. Optional projects are only used for testing.
Required
Optional
No optional projects