Problem/Motivation
I can sum up this feature request in a picture: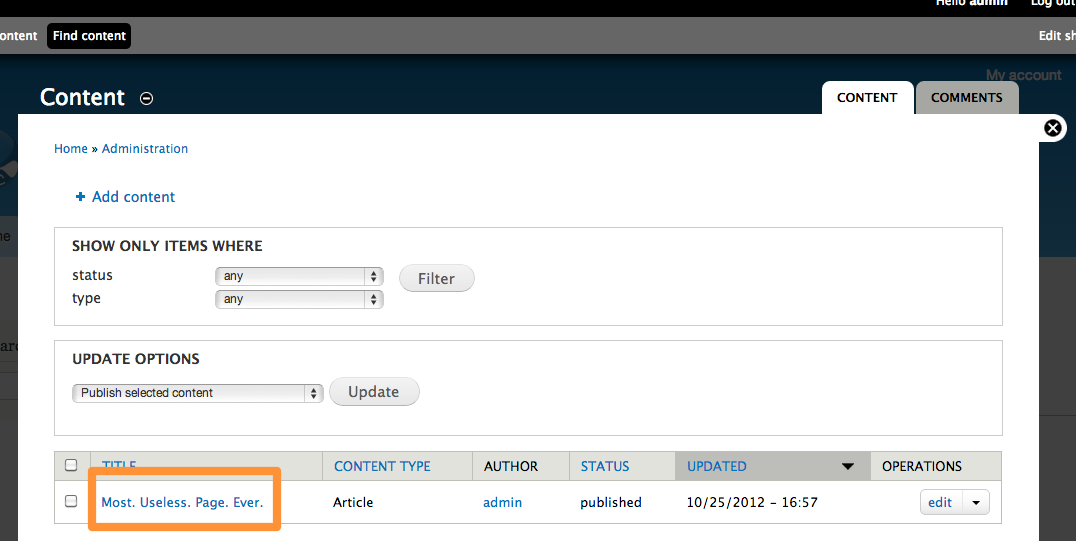 This page is absolutely central to the lives of content authors (aka "victims" of Drupal), and yet it is utterly horrible and useless.
1) Despite the Shortcut's false advertising, there is not, in fact, any way to actually "Find content" from this page. It would more adequately be called "Pray that whatever content you're looking for is pretty recent, otherwise you are screwed." But that's a little long for a Shortcut name.
2) The filtering options are extremely sub-par. Want to find content by author? BZZZT. Sorry. Not going to happen.
3) The fields themselves are also useless. In many cases you want to view, say, an excerpt of the content in question, or a thumbnail of the product image, or what have you. Tough luck, sucker. Those fields are hard-coded and they're not getting any better.
(There are other examples of further uselessness of hard-coded admin overview pages, as well; the user listing at admin/people that doesn't allow you to search by e-mail or real name, for example.)
With Views now in core, one might think they can rejoice, and bask in an angelic glow of possibilities. Except BZZZT. No, you can't. Why? Because there's no way to perform bulk operations on your content, so we're going to have to leave this crappy, horrible page in for Yet Another Release...
UNLESS....
Proposed resolution
Port Views Bulk Operations module to Drupal 8, and put it in core. :D
Remaining tasks
There are some blockers to this (bojanz had some thoughts), which I know include at least the following:
#1823572: Port Views Bulk Operations to Drupal 8
#1823570: Convert Actions to Plugins
#1788104: Convert actions to plugin sub-system
#1088048: Add ability to schedule actions
So... please? :)