Installing CiviCRM Starter Kit
Pantheon provides a one click install option for this distribution. It is FREE to try and is by far the easiest way to get started with Drupal and CiviCRM, but you will need to pay for a Pantheon plan at some level to launch your site.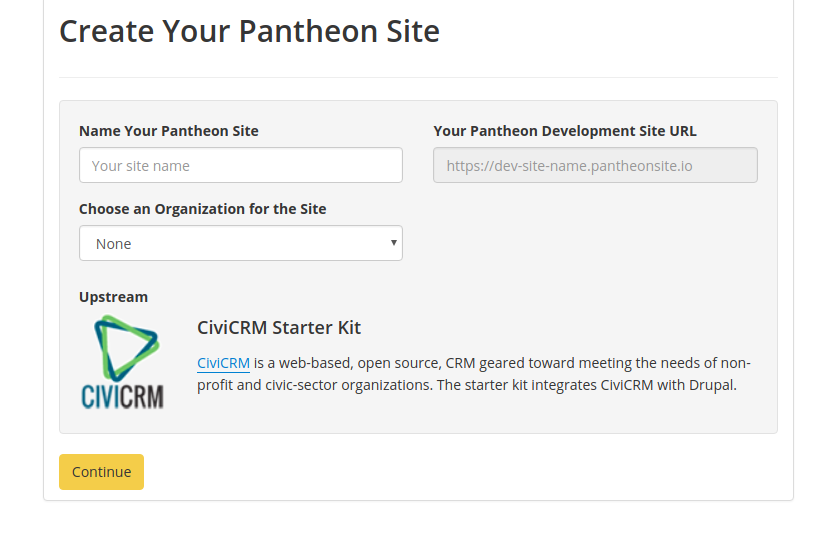 After your Pantheon site is created, click the Visit Development Site button to install Drupal and CiviCRM.

There is additional documentation about Migrating an Existing site to CiviCRM Starter Kit on Pantheon and Upgrading the CiviCRM Starter Kit on Pantheon, but to finish a new install you can follow the install steps in the Install, Configure, and Update Using Install Profile section.
Install, Configure, and Update Using Install Profile
When installing the CiviCRM Starter Kit using the Install Profile, select the CiviCRM Starter Kit option instead of the normal standard or minimal options.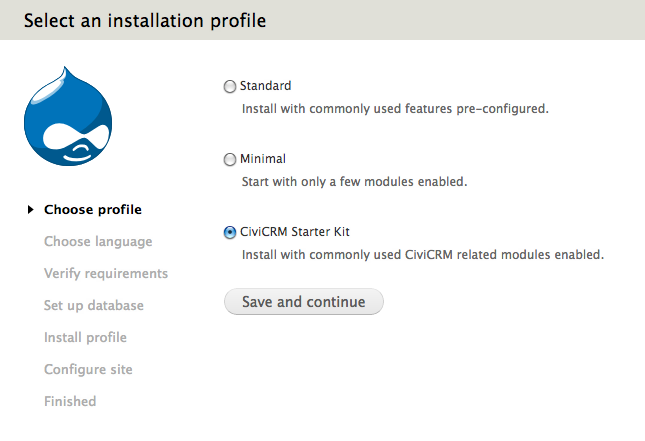 You will be told that you can not finish the install until the CiviCRM install is complete. Click the install link in the CiviCRM settings file does not extist. It should be created by CiviCRM install message and configure CiviCRM the same way you would if you were installing it after configuring Drupa.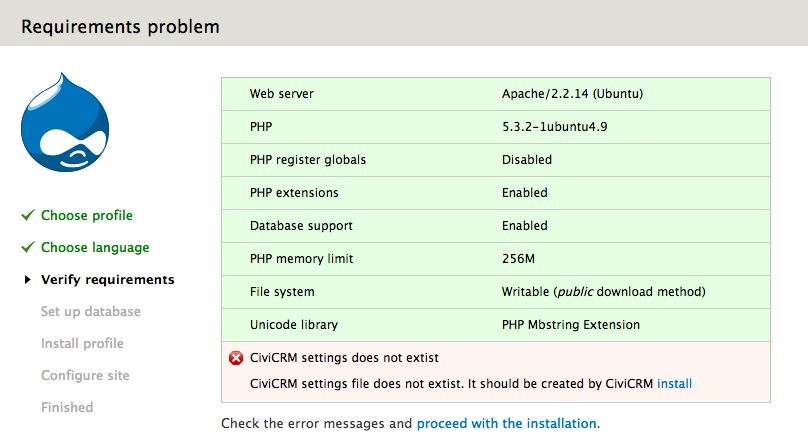 Once the CiviCRM install is complete, you will be sent to the first step in the Drupal configuration. Note, there is not a notice letting you know that CiviCRM install was completed successfully.
Download sites/default/civicrm.settings.php. In civicrm.settings.php you will probably need to update CIVICRM_UF_BASEURL where the installer writes the URL of the website. Change dev-mywebsite.pantheonsite.io to your live site URL.

if (!defined('CIVICRM_UF_BASEURL')) {
  global $base_url;
  if (!empty($base_url)) {
    define( 'CIVICRM_UF_BASEURL'      , $base_url . '/');
  } else {
    define( 'CIVICRM_UF_BASEURL'      , 'dev-mywebsite.pantheonsite.io');
  }
}
Note that most of the settings are set to be generated automatically so there is just a minimal number of variables to edit manually to have a functioning site in Pantheon. The one exception is if you would also like to be able to work on the site on your own computer which requires you to add paths for each `else` statement: 

if (isset($pantheon_conf)) {} else { EDIT HERE }