Description:
All Drupal core modules, themes, scripts, libraries, includes, and text files have been moved to a "/core" subdirectory of the Drupal repository with the exception of these files/directories:
profiles
sites
.htaccess
example.gitignore
authorize.php
index.php
install.php
README.txt
robots.txt
web.config
Placement of non-core modules and themes
Following this change, contributed and custom modules can now be placed in the modules/ folder in the root of the Drupal installation, and contributed and custom themes can be placed in the similar themes/ folder.
This differs from Drupal 7 and earlier, where these folders were used for core modules and themes.
The sites/all/modules/ and sites/all/themes/ folders can also still be used, as can site-specific subdirectories.
The core/modules/ and core/themes/ directories should never be used for contributed or custom modules.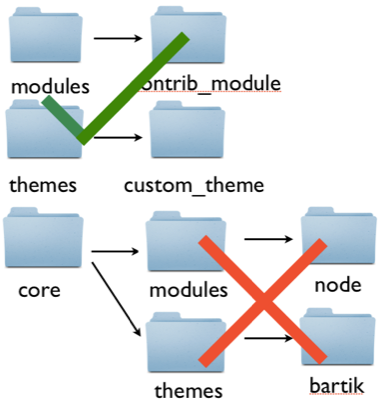 Impacts:
Site builders, administrators, editors
Module developers
Themers