Last updated 12 January 2016. Created on 20 September 2011.
Edited by baekelandt, drozas, brockjo, silverwing. Log in to edit this page.
Summary
Facebook Page Plugin is a simple module that provides a configurable block with the latest updates from Facebook for any given Facebook Page. It is based on the Facebook Page Plugin provided by Facebook.
The widget settings are configurable directly in the block and they are available for users with 'administer blocks' permission.
From FB Likebox to Facebook Page Plugin
Facebook announced the old Facebook Likebox social plugin will be deprecated after the 23th of June 2015. New branches were developed for this new plugin: 7.x-2x and 6.x-2.x respectively. The naming of the module "fb_likebox" in the code will remain since this is the name of the project at Drupal.org itself.
Requirements
Installation
Configuration
Go to Site > List > 'Theme' in D6 or Structure > Blocks > 'Theme' in D7
The block will be called "'Your site name' on Facebook"
Click on 'configure':
As an alternative, in Drupal 7 you can access the settings directly using the contextual link 'Configure Block'
Add the Facebook Page (i.e.: https://www.facebook.com/FacebookDevelopers) and configure the display and appearance settings.
Responsive
The plugin will by default adapt to the width of its parent container on page load. If the width of the parent element is bigger than the Page pluin's width it will maintain the value defined in data-width. (min. 180px / max. 500px).

For more information visit the Facebook developers documentation
Configuration examples:
Default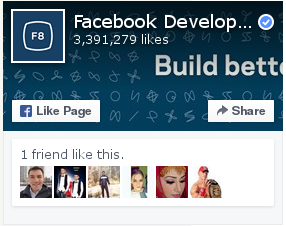 Show profile photos when friends like this: Yes
Width: 340
Height: 500

Minimal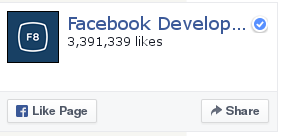 Hide cover photo in the header: Yes
Width: 300
Height: 500

Looking for support? Visit the Drupal.org forums, or join #drupal-support in IRC.