Problem/Motivation
Code is baked in to locale module. Drupal core has some support for parsing and generating Gettext Portable Object (.po) files. This functionality was improved with Drupal 7 to support text context, that was part of the spec but not implemented in Drupal before. However, the actual code that is used to process and generate Gettext files is so baked in, there is no practical way to reuse at all. You can only import all strings from a filename (tied together all through from opening the file to parsing and writing to the database); you can only export direct from the database for a HTTP header equipped download. Everything is vey tightly coupled.
Duplicate code done with other modules As a consequence, contrib modules such as l10n_client, l10n_server, l10n_update and gettextapi need to duplicate this code.
Parser is bound to fixed sources (memory, db) The current .po file parser for example takes modes like memory or database level storage and it has fixed callbacks invoked to store the data. It also takes a filename which it opens and reads itself. This makes it impossible to reuse, read in chunks, read from other sources, store at other places, etc. The above mentioned modules have examples of reworked versions of this API.
It should be independent code Ultimately the gettext .po file parsing and generation code should be entirely independent of the locale module UI and/or database.
Memory and runtime limits due to all in imports of possibly big files see #1637348: Import Gettext .po files in progressive batches to avoid time limits
Proposed resolution
Create a new Component Drupal/Component/Gettext
By introducing a generic Gettext component we get independent code. This will move gettext.inc functions into their new classes. The component must be capable of reading from/writing to *.po files, reading/writing to database, 'writing' to memory. Code involving reading and writing to the database is locale module specific, so those implementations should live with the locale module. More generic implementations for file parsing and generation and memory based loading (for the installer) should reside with the component.
Proposal is to have separate components for each direction (read, write) and each source type. This leads to:
PoStreamReader
PoStreamWriter
PoDatabaseReader (implemented inside Drupal\locale\GetText, because it is locale database specific)
PoDatabaseWriter (implemented inside Drupal\locale\GetText, because it is locale database specific)
PoMemoryWriter
We can then chain a Reader to a Writer (core common implementations in Drupal\locale\GetText) to get a job done:
PoStreamReader -> PoDatabaseWriter (importing a translation)
PoStreamReader -> PoMemoryWriter (installing Drupal in ones own language)
PoDatabaseReader -> PoStreamWriter (exporting a translation, creating a *.POT file)
The architectural overview of the interfaces and classes is proposed is the following: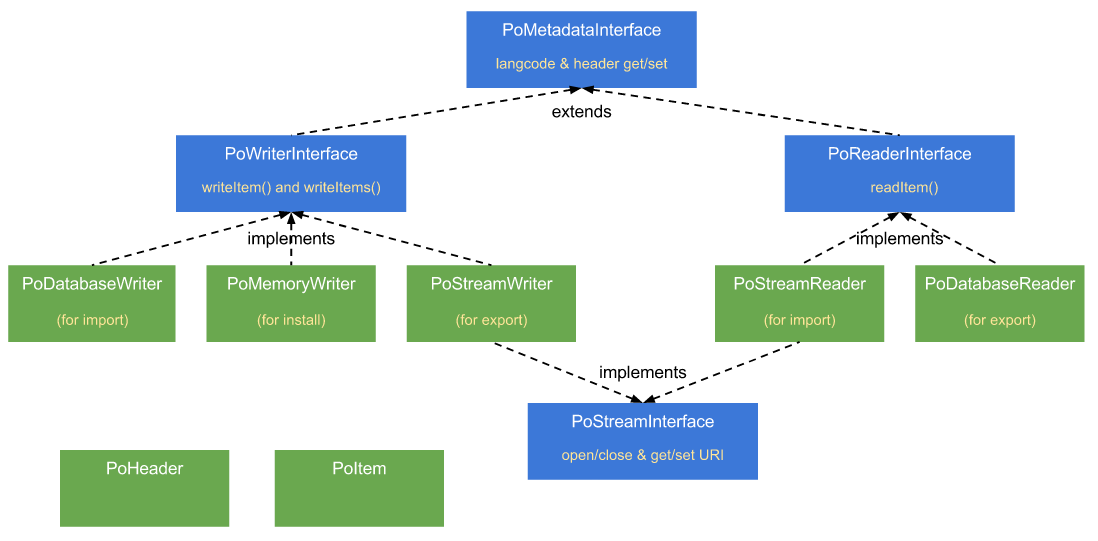 This solves all the problems explained above except the memory/runtime limit issue. We have been working hard to solve that as part of this patch, but after 200+ comments and lots of existing work, we decided to move that to a followup at #1637348: Import Gettext .po files in progressive batches to avoid time limits.
Related issues
I've proposed this as a GSoC project at http://groups.drupal.org/node/138369 but nobody was interested. It is probably not interesting enough, but still needs to be done. Here is my existing writeup.
Drupal core has some support for parsing and generating Gettext Portable Object (.po) files. This functionality was improved with Drupal 7 to support text context, that was part of the spec but not implemented in Drupal before. However, the actual code that is used to process and generate Gettext files is so baked in, there is no practical way to reuse at all.
As a result, for example Translation template extractor and Localization server duplicate code for generating .po files themselves while Localization update and Localization server duplicate code to process .po files. While these implementations are more pluggable, there are already too many copies and the bigger problems are not solved. A major problem with .po file parsing is our one-pass approach, which bumps into memory and runtime limits on basic hosting. (That issue is being discussed at #569004: Add support for seek based batch import of .po files).
The current .po file parser for example takes modes like memory or database level storage and it has fixed callbacks invoked to store the data. It also takes a filename which it opens and reads itself. This makes it impossible to reuse, read in chunks, read from other sources, store at other places, etc. The above mentioned modules have examples of reworked versions of this API.
Ultimately the gettext .po file parsing and generation code should be entirely independent of the locale module UI and/or database.