Last updated 24 February 2015. Created on 2 March 2011.
Edited by HongPong, leoburd, dooug, matt@antinomia. Log in to edit this page.
How is VoIP Drupal structured?
The following image shows some of the main modules that are part of the VoIP Drupal framework.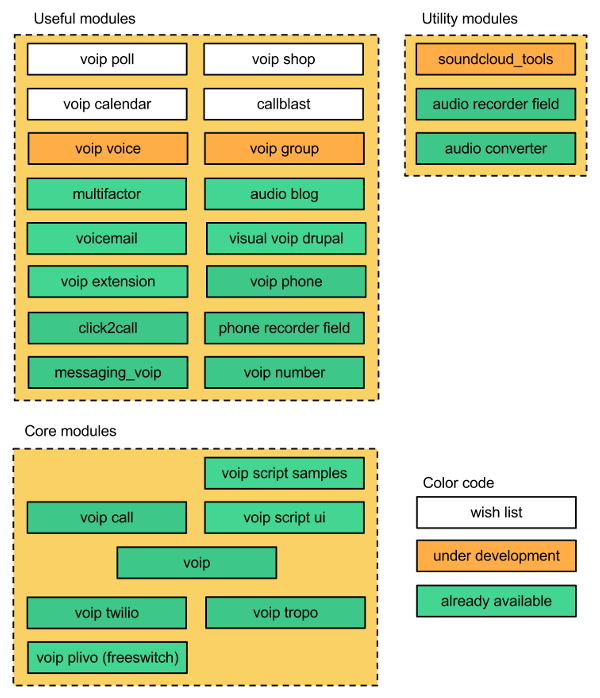 The VoIP Drupal framework is composed of modules that can be grouped into "core," "useful" and "utility" categories. The modules in the "core" category are included in the official VoIP Drupal project page (http://www.drupal.org/project/voipdrupal/). They provide either essential or extremely useful functionality required for other other modules to benefit from the VoIP Drupal capabilities. Among other things,
The VoIP Drupal "core" also include modules that implement the functionality associated with specific Internet telephony servers. Ideally those modules should only be accessed via the functions provided by the VoIP Drupal API modules. We already have the following modules available:
The modules in the "useful" category demonstrate good, useful applications of the VoIP Drupal API. Example modules include:
Finally, the modules in the "utility" category implement useful functionality that does not require VoIP Drupal in order to be adopted. They include:
Looking for support? Visit the Drupal.org forums, or join #drupal-support in IRC.