Professional Info
Industries Worked In:
Education, Non-Profits, IT
Bio:
I started learning Drupal for a personal project in 2009. Quickly i found Drupal insanely addictive, productive and fun. The combination of Views, CCK and Panels was so powerful that i couldn't understand why anybody would choose to make websites any other way.
Over the years, I have been involved in almost all facets of website development.
Deeply interested in open source software. I has tried to learn something formally in all his areas of interest: I holds a Bachelors in Computer Science from Rajasthan Technical University.
When i was not pondering Drupal's API calls, I likes to engage in playing Guitar and traveling.
Drupal Makes ME TOO HAPPY....
ツ Most interested to relocate in US, UK, Singapore or UAE
History
On Drupal.org for 7 years 6 months

Documentation

At least 1 edit
Drupal Contributions:
Patch Tester: See here
Drupal Camp Delhi 2013
Drupal Camp Delhi 2014
Drupal Camp Mumbai 2014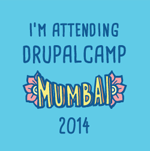 Drupal Camp Delhi 2015
Drupal Camp Pune 2015
Drupal Camp Delhi 2016
Ahmedabad Drupal Meetup
Drupal Meetup Bangalore
Volunteer in DrupalCamp Mumbai 2017
Volunteer in DrupalCamp Pune2017