Last updated 15 August 2017. Created on 27 May 2016.
Edited by cristiroma, kostask, adriancid, kmbremner. Log in to edit this page.
Explanation
The Paragraphs module works within a multilanguage setup but there are crucial things which you need to be aware of.
Translatable paragraph fields on the parent entity are not supported. This might sound confusing or misleading, but it depends where the translatable option is enabled. It is totally legit, that the fields on the paragraphs item entity itself are translatable, but not the paragraph field on the parent entity (e.g. Node, Taxonomy term, ...).
An important note: When activating translation on the parent entity on the "Content Language" at admin/config/regional/content-language, the default setting of paragraph fields is the wrong one. You should disable the translatable option immediately.
To correctly enable the translation of paragraphs, click paragraphs on top of the page then scroll down (without saving!) near the bottom of the page and check the paragraph types you want to enable translation and each field for the paragraph type. By default all fields will be checked - which might not be correct!
Also never enable translation on the Paragraphs field (Entity reference revisions). As it will enable the possibility to add new paragraphs while translating, if an emtpy field (not containing any paragraph field) is on the translation source node - which is not supported !
Example
I will try to highlight this with two screenshots what has to be avoided and what is the way to enable translatable paragraphs.
I will use my setup and configuration as an example. It uses a content type called "Article" (german Artikel) which fields can be found under /admin/structure/types/manage/article/fields.
In my case there are certain fields which are specific to the entity and there is a field called "Inhaltselemente" (field_article_paragraphs) which holds all paragraph elements. This field must not be translatable and therefore avoid checking "Users may translate this field" checkbox. See screenshot below.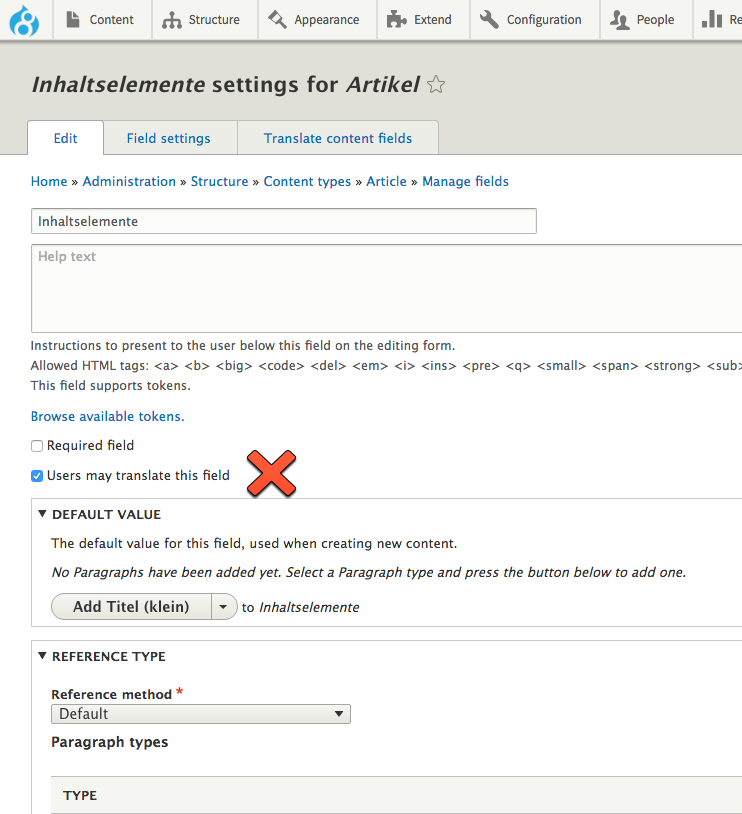 The multilanguage settings of translatable paragraphs content need to be made on the paragraph / on the paragraph fields itself.
E.g. I have a paragraph type called "Quote" (Zitat) which has certain fields. Those fields itself can be translated and is totally valid. See screenshot below.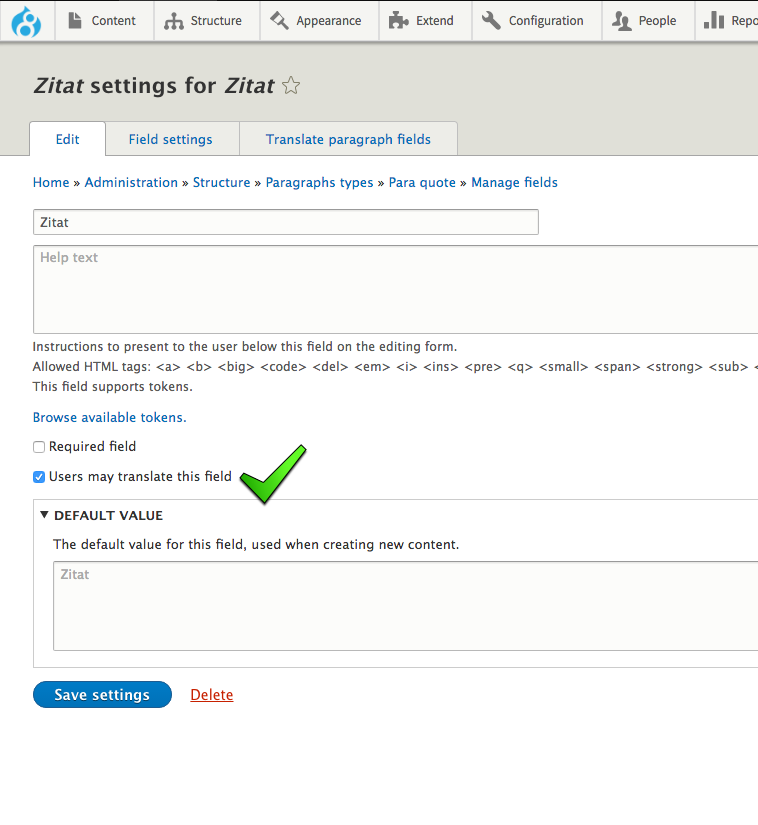 To activate the multilanguage you need to go to: admin/config/regional/content-language check Paragraph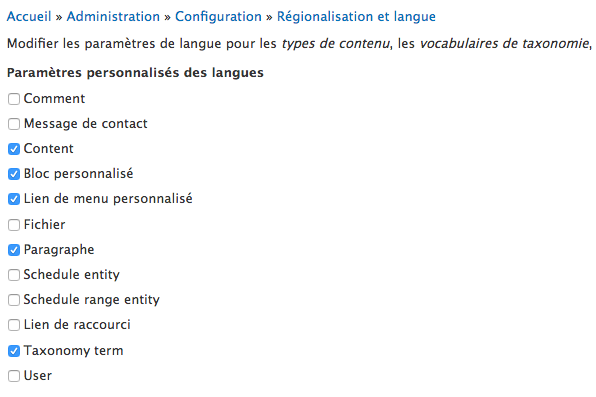 Search the Paragraph section and check the fields you want to make translatable.
Then go down and Save Configuration.
Looking for support? Visit the Drupal.org forums, or join #drupal-support in IRC.