Problem/Motivation
Now that Drupal 8 downloads real Drupal 8 translations following #1914070: Improve version fallback for install language., we can go and figure out translation problems. I found a big one right away with the "Extend" menu item. Looks like "Extend" is a word used elsewhere as "make it apply for a longer time" at least I assume that may be the case with the "Auto expire" module for example. Drupal 8 menu uses this as "add more components". This is an English word that is ambiguous for translation and would need context to disambiguate. Now the problem is menus / routing / tabs don't allow for such context to be specified.
The very concrete problem at hand is the Hungarian team translated "Extend" as the Hungarian equivalent of "lengthen" (ie. "extend my vacation", instead of "extend" as in "extend the system with more components"). I went to *fix* the translation, but given how wide this applies to, "fixing" it may as well brake it for other uses:
Mistranslation as appears in Drupal 8: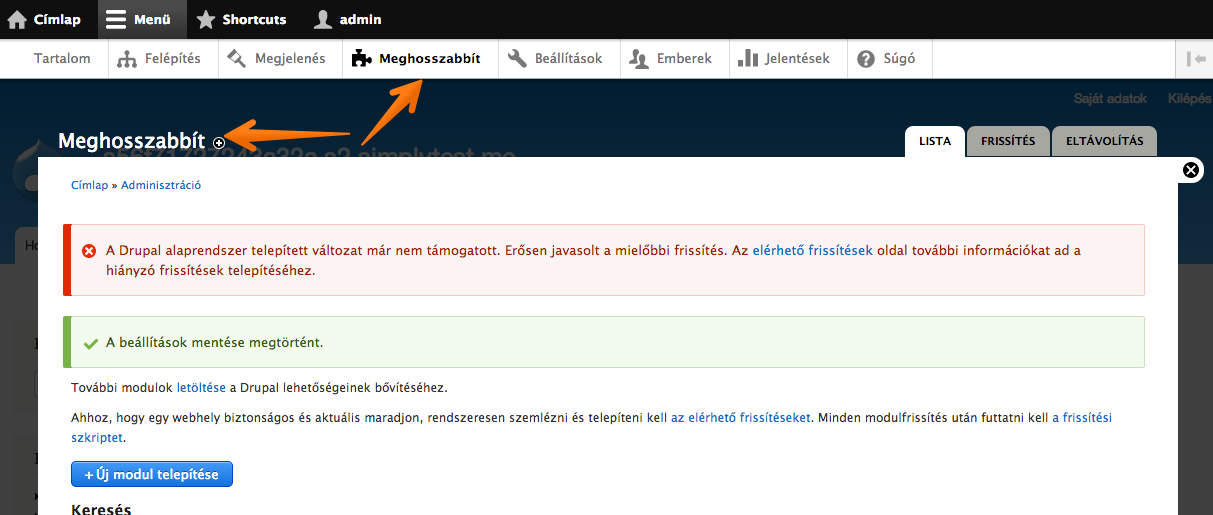 Mistranslation as it appears on localize.drupal.org: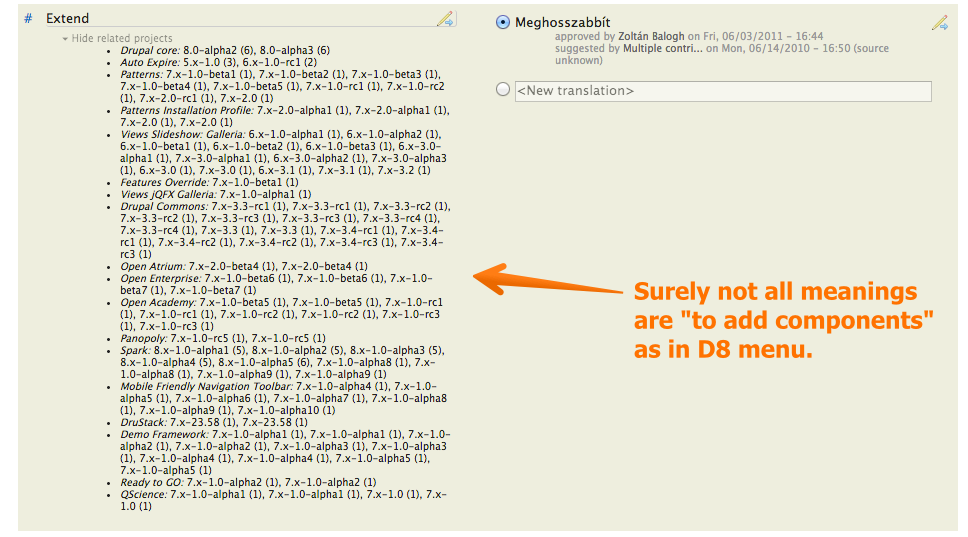 Proposed resolution
1. Need way to attach context to strings in routing / tabs / contextual links and apply context to at least the string "Extend". As more ambiguous strings are found, apply context to those too. This is covered in this patch.
2. Carry that over to the menu system: #2119551: Add string context support to menu system (ONLY the completion of this would make the "Extend" mistranslation go away and the proper contextualized text to prevail in the menu)
Remaining tasks
- Commit.
User interface changes
None.
API changes
New keys to specify context for strings in routing / tabs / action links.
Related Issues
#2119551: Add string context support to menu system handles carrying this data over to the menu system.
#2120235: Regression: routing / tabs / actions / contextual links lack way to attach replacement arguments to UI strings related regression
#2119497-9: Default local tasks are not to be assumed $route_name . '_tab'
#1926488: Rename toolbar "menu" tab to "manage"