Last updated 7 November 2013. Created on 15 September 2011.
Edited by agentrickard, jooplaan, kalman.hosszu. Log in to edit this page.
Upgrade instructions
If you are using Domain Access 6.x.2, you may upgrade straight to 7.x.3 using these upgrade instructions.
If you are using Domain Access 7.x.2, you must upgrade to 7.x.3 using the Drupal update script. To do so, follow the steps below.
Disable Domain Access 7.x.2 and its dependent modules.
Download the recommended version of Domain Access 7.x.3.x and replace all of the existing 'domain' files with the new module files.
Run update.php, either through the user interface or drush.
Enable Domain Access and its dependent modules.
If you do not disable the module before upgrading, fatal errors will occur. These errors are temporary but look pretty scary. Your site will not be damaged, so Don't Panic.
After you upgrade, you may be prompted to perform additional actions. Simply follow the on-screen instructions.
The prompt to update domain modules.


The form for updating module data.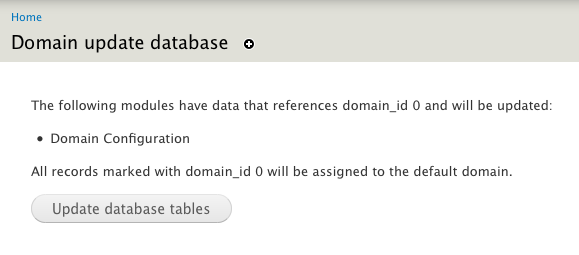 These additional updates are acceptable via drush with drush domain-repair.
Updating via drush
Steps to update via drush:
drush dis domain
drush dl domain
drush updb
drush en domain --uri="http://example.com/optional_subdirectory"
[enable other modules as needed]
drush domain-repair
Notes
There have been significant API changes in the 7.x.3 branch. If your site uses a module that is not part of the Domain Access package, you should check to see if that module is compatible with 7.x.3 before you upgrade.
If you find a module that is not compatible, please file an issue in that module's issue queue.
If you do not perform the update as described, it is possible that your database cannot be updated. If this happens, you may be forced to update your database using custom SQL queries. To avoid this situation, please follow the upgrade instructions before changing settings to any domains.
Looking for support? Visit the Drupal.org forums, or join #drupal-support in IRC.