Last updated October 12, 2016. Created on December 1, 2009.
Edited by Christopher James Francis Rodgers, ashish_nirmohi, LeeHunter, ar-jan. Log in to edit this page.
Field module is an internal developer API. For information about using Fields with your Drupal site, see Field UI module.
The Field module allows custom data fields to be attached to Drupal entities (content nodes, users, taxonomy vocabularies, etc.) and takes care of storing, loading, editing, and rendering field data. Most users will not interact with the Field module directly, but will instead use the Field UI module user interface. Module developers can use the Field API to make new entities "fieldable" and allow fields to be attached to their entities.
Sample field definition screen: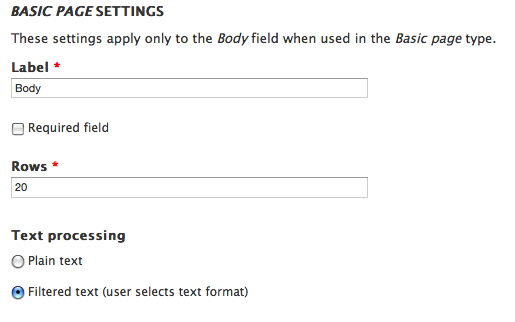 Uses
The Field module provides the infrastructure for fields and field attachment; the field types and input widgets themselves are provided by additional modules. Some of the modules are required, and the optional modules can be enabled from the Modules administration page (Administer > Modules). Drupal core includes the following field type modules: Text (required), Number, List, Taxonomy, Image, and File. Additional fields and widgets may be provided by contributed modules.
Versions
Drupal 7
This module was introduced in Drupal 7. Unlike in earlier versions, you do not need to download a separate module to add fields to a content type.
CCK in Drupal 6 and lower
Field module is the core version of the Drupal 6 CCK module.
Details
Default module: Yes.
Dependencies: Field SQL Storage or custom storage module.
Related Modules: Field UI, Field SQL Storage, File, Image, List, Number, Node, Taxonomy, User, Text
Permissions: None.
API Documentation: Field API
Database tables: None.
Looking for support? Visit the Drupal.org forums, or join #drupal-support in IRC.