Professional Info
Industries Worked In:
E-Commerce, Healthcare, Blogging
Personal Info
Languages spoken:
English
Hindi
Marathi
Sindhi
Bio:
I am an Information Technology Engineer and Web developer with 6 years of hands-on experience.
I am a Drupal Developer by profession with 4.10+ years of experience in building & architecting Drupal Solutions.
I have worked in following Drupal versions:
- Drupal 7
- Drupal 8
Below are some of the areas I have worked in Drupal:
- Drupal Site Building
- Drupal Back-End Development
- Drupal Front-End Development
I have done following certifications in Drupal: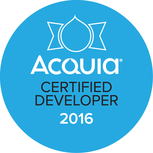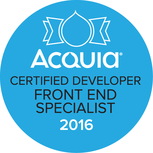 History
Member for

5 years 2 weeks

Documentation

Over 10 edits
Drupal Contributions:
Contributed Age Calculator & Unix Time Conversion module to Drupal 7.
Ported Noscript Tag module to Drupal 8
Ported Age Calculator module to Drupal 8
Recently porting Extlink Overlay module to Drupal 8
Contributed Drupal Core & Contributed module patches.
Contributed Documentations about sub theming.
Contributed to Drupal translations.
I help people on Drupal Forums: Module & Code Develiopment section.
Mentor: Code sprint 2016 conducted by Drupal mumbai community at iksula solutions.
Trained at Global Training Day 2015 - Mumbai(Blisstering Solutions)
Participanted in Code Sprints at Drupal Con Asia 2016.
Submitted Sessions in Drupal Con Asia 2016.
Volunteer: Drupal Camp Mumbai 2014
Attendee: Drupal Camp Mumbai 2015.
Regular participation in Drupal mumbai meetups & other events.
Credited on 32 issues fixed in the past 1 year
kunal.kursija helps support and grow the Drupal community with the Drupal Association.
One person lists kunal.kursija as a mentor
I contributed Drupal patches
I contributed Drupal modules
I contributed to Drupal issue queues
I contributed Drupal documentation
I contributed Drupal translations
I reviewed Project applications
I help in the Drupal support forums
I provide Drupal-related services
I give support on IRC
I help mentor new contributors