Professional Info
Companies Worked For
Capgemini
, PwC India, Superia Infosolutions Pvt. Ltd, eMotions Infomedia Pvt. Ltd., Objectsol Technologies Pvt. Ltd.
Industries Worked In:
it/software, education, healthcare, travel, logistics
Bio: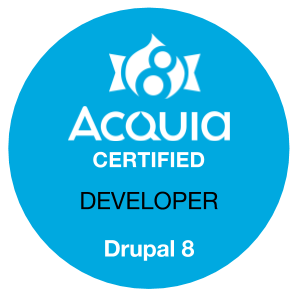 Introduction
I have qualified for GATE 2016 and pursued "Master of Engineering" in Computer Science in the year 2008. I have 9 years of experience in web architecting, web application development, database designing and web optimization in e-Governance, Education, Finance, Retail, Health Care and Media & publishing industry. 6+ years of Drupal development experience. I'm passionate about architecting web applications.
Below are the few websites where I have major/little contribution.
https://www.emergenc.com/
http://www.pfizerrxpathways.com/
http://www.pfizer.com/
http://www.eurostar.com/
http://www.royalmail.com/
I did end to end solution for https://www.emergenc.com/ including RPF solution, Project planing, designing, coding, testing, bug fixing and deployment to production with the help of my teammates.
History
Member for

4 years 8 months
Areas of Expertise:
* Custom Drupal module development * Drupal Site Building * Drupal Architect
Senior Backend Developer
Credited on 2 issues fixed in the past 1 year
SoumyaDas helps support and grow the Drupal community with the Drupal Association.
One person lists SoumyaDas as a mentor
I contributed Drupal patches
I contributed Drupal modules
I contributed to Drupal issue queues
I contributed to Drupal.org
I contributed Drupal documentation
I reviewed Project applications
I help in the Drupal support forums
I provide Drupal-related services
I help mentor new contributors