Bio:
I have over 3.5 years of experience in planning, development, maintaining Drupal websites and leading development teams in Drupal.
Expertise in Site-Building, Back-End Development, Front-End Development.
Expertise in Drupal development, Custom module development, Analysis, Performance.
Deployment of website on various platform like Acquia , Pantheon.
Headless Drupal expert - Architecture design and implementation of web service platforms using Drupal.
Expertise in third-party integrations - Payment gateways like Braintree and Payzee.
Experience in performance & optimization for Drupal sites, performance audits.
Drupal Apache Solr, Memcache, Redis, APC Implementation.
Expertise with Views, Panels, Features and many other popular contributed drupal modules.
Leading multiple teams of 2-4 people to deliver web projects.
Experiance in working with remote team member and multiple company people together.
Experience in front end development with tools like SASS.
Worked on integrating Web Apps with Facebook, Twitter and other Social Media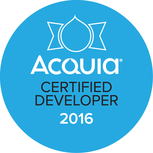 History
On Drupal.org for 4 years 2 weeks
Drupal Contributions:
Other Drupal Events
Drupal Camp Mumbai 2014
Drupal Camp Mumbai 2015
Drupal Camp Mumbai 2017
Areas of Expertise:
* Contributed module patching
* Custom Drupal module development
* Drupal Theming
* Drupal module porting in D8
Credited on 37 issues fixed in the past 1 year
dishabhadra helps support and grow the Drupal community with the Drupal Association.
One person lists dishabhadra as a mentor
I contributed Drupal patches
I contributed Drupal modules
I contributed to Drupal issue queues
I contributed to Drupal.org
I contributed Drupal translations
I reviewed Project applications
I help in the Drupal support forums
I provide Drupal-related services
I give support on IRC
I help mentor new contributors