Bio:
Experienced Drupal Professional, Acquia Backend Specialist & Drupal Developer Certified with 5 years of experience includes backend & front end development, Architecture, Deployment, Scaling, Custom module development, Site building, Website development & Optimization.
Acquia Certified Backend Specialist Drupal Developer
Acquia Certified Drupal Developer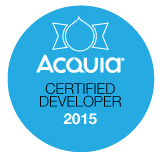 Drupal Core Contribution : http://cgit.drupalcode.org/drupal/log/?h=HEAD&qt=grep&q=Ashish.Dalvi
Good experience in Drupal concepts and standards for website architecture.
Good experience in Design, develop and deploy Drupal based solutions
Good experience in understanding the core Drupal basic architecture best practices for front and back end development
Professional experience using Drupal technology
I have completed Bachelor of Engineering in Information Science & Engineering from SECAB Institute of Engineering & Technology, Karnataka in July 2011.
Currently I am working in Iksula Service as Drupal Team Lead
I worked in Blisstering Solutions and Intelliswift Software Pvt Ltd as a Drupal Engineer.
History
Member for

5 years 5 months

Documentation

1 edit
Areas of Expertise:
* Custom module development
* Drupal Site Building
* Website building
Credited on 27 issues fixed in the past 1 year
5 people list Ashish.Dalvi as a mentor
I contributed Drupal patches
I contributed Drupal modules
I contributed to Drupal issue queues
I contributed to Drupal.org
I contributed Drupal translations
I reviewed Project applications
I help in the Drupal support forums
I provide Drupal-related services