https://www.rebeldevs.com
2 people on Drupal.org

Services

3rd party Integration, Accessibility, Cloud hosting, Consulting, Content strategy, Data migration, Dedicated hosting, Deployment, Design, Development, E-commerce, Front-end Development, Information architecture, Infrastructure Planning, Managed Enterprise hosting, Marketing and Social Media, Mobile App Development, Mobile Site Development, Multilingual websites, Multisite installations, Performance Tuning and Optimization, Project Management, Quality Assurance, Security reviews, SEO, Shared Hosting, Site Audits, Site Building, Support, Theming, Upgrades, Usability, VPS hosting

Sectors

Agriculture, Arts, Beauty and Fashion, Blogging, Community, E-Commerce, Education, Enterprise, Entertainment, Legal Industry, Manufacturing and Energy, Media, Music, Non-profit, Publishing, Real Estate, Religious organizations, Retail and Distribution, Small business, Social Networking, Sports, Startups, Technology, Telecommunications, Travel and Hospitality

Locations

Headquarters

Minneapolis, Minnesota

Usual project budget

$25k to $300k+
Rebel Devs is a full-service digital agency located in Minneapolis, Minnesota providing Drupal and other open source CMS solutions. Our world-class client services is what has us leading the pack.
Woof!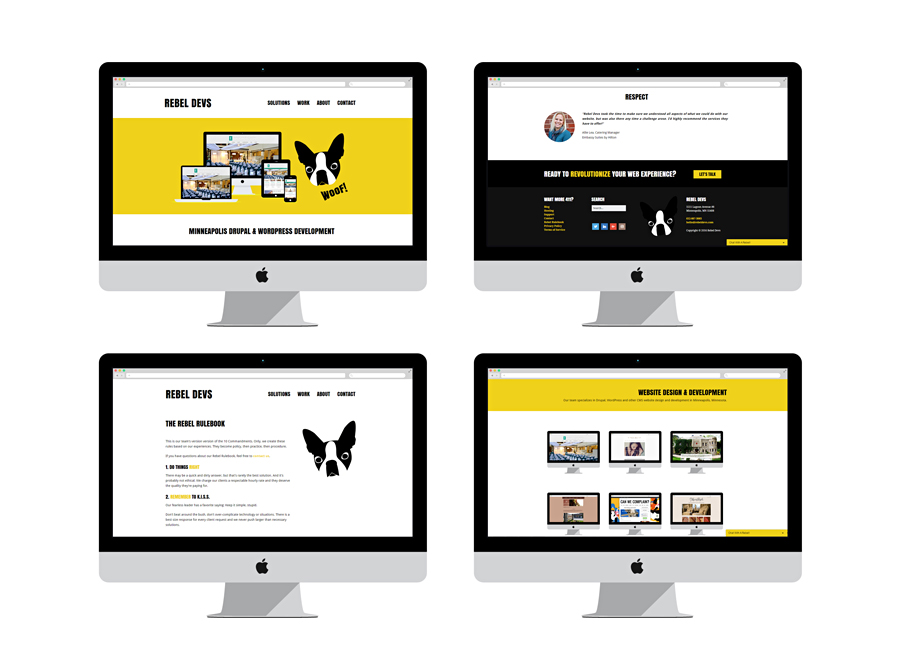 Our team specializes in content strategy, user experience, responsive design, site building, theming, search engine optimization, digital marketing and website support & maintenance.
Reach out to an account specialist through our website to find out more!