Wysiwyg Fields is an Inline field management system, a module that bridges the gap between Drupal fields and CKEditor, giving the power of Drupal's field system via the simple usability of a CKEditor dialog.
What that means is that Wysiwyg Fields allows for any Drupal field to be embedded directly into CKEditor and behave as a native CKEditor plugin, removing unnecessary clutter from your Drupal entity forms.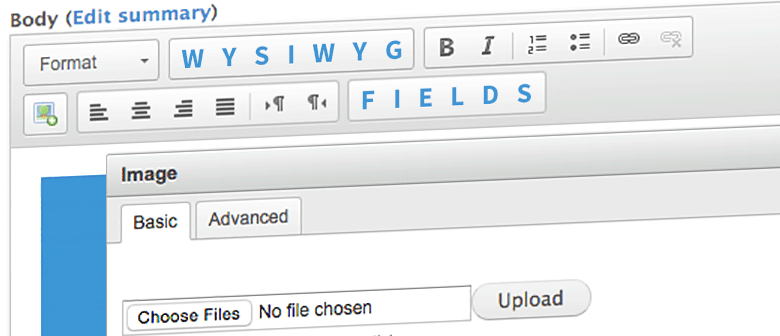 Required modules
Recommended modules
Installation
Install the module and dependencies as per standard Drupal instructions.
Create or update a field so that it uses the Wysiwyg field widget.
Add your Wysiwyg field button to a CKEditor profile.
Note: If you are using a local installation of the CKEditor javascript library you will need to install the following plugins into your CKEditor plugins directory (e.g., sites/all/modules/ckeditor/plugins):
Demonstration distribution
The Wysiwyg Fields demonstration distribution sets up a basic Drupal site with multiple content types and multiple Wysiwyg fields ready to play with out of the box.
You can also try it out on SimplyTest.Me: http://ply.st/wf_demo
Regarding 7.x-1.x and below
There is not currently an upgrade path from old versions of Wysiwyg Fields.
Supporting organizations:
Project information
Downloads
7.x-2.0-beta2
✓ Recommended by the project's maintainer.
Development version: 7.x-2.x-dev updated 7 Feb 2016 at 10:44 UTC