About
This module integrates WorlPay's redirection payment service with Ubercart to allow your users to pay via credit card.
Features
Test/live mode
MD5 support
Payment response password (D7 only)
View transaction details for each order (D7 only)
select accepted credit cards
Looking for new maintainer. Please contact Roland Gruber.
Maintenance status
Drupal 7: stable, new features and bug fixes
Drupal 6: stable, bug fixes only
The module is currently maintained by Roland Gruber Softwareentwicklung.
Former authors: Freestyle Systems, Ligatus, Hans Idink
Screenshots
WorldPay option at checkout:


View transaction details for an order: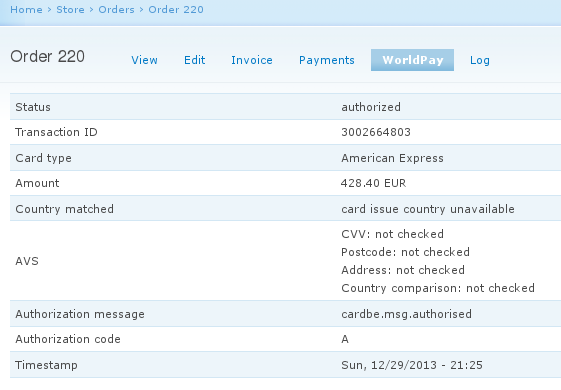 Project information
Downloads
7.x-1.4
✓ Recommended by the project's maintainer.
Development version: 7.x-1.x-dev updated 3 Aug 2016 at 18:38 UTC