Note: Social Sharing feature is available with LoginRadius FREE plan whereas Social Login feature is available with paid plan. To learn more about LoginRadius pricing, click here
Step-by-step installation Video: https://vimeo.com/loginradius/drupal-social-login-and-social-sharing
Product Overview:
Social Login - Social login reduces the barriers users face when attempting to register on your website by allowing them to log in with their existing social accounts, including Facebook, LinkedIn, Twitter, Google and 30 other networks. This eliminates the need to create yet another username and password.
Social Sharing - Make your users your brand ambassadors and drive high quality referrals to your website - 82% of users consider buying or trying products and services based on their friends' recommendations. With social share, you give users the tools to share your content, product details and other information with their own networks.
User Profile Data & Permissions - Our solution allows websites to collect more than 200 user data points - such as demographics, name, education, verified email address and many more - in order to better understand users. This enables businesses to personalize users' web experiences and then build long-term relationships with them.
Social Analytics - With social analytics, website owners get access to far more data fields than traditional analytics - such as Google Analytics - because they include individual users' interests, gender, education, relationship status, age and also track their activities across websites.
Social Data Integration - Our solution can auto integrate social data into your existing softwares such as mailchimp, hubspot, salesforce, google analytics, etc.
Single Sign-On - Single Sign-On creates a single authentication system for multiple web properties allowing users to navigate websites with a single account.
Plugin Live Demo
See live working of Social Login on a Drupal demo site: http://demo.loginradius.com
Step-by-step installation document for Drupal 6 and Drupal 7 -
Installation and Configuration document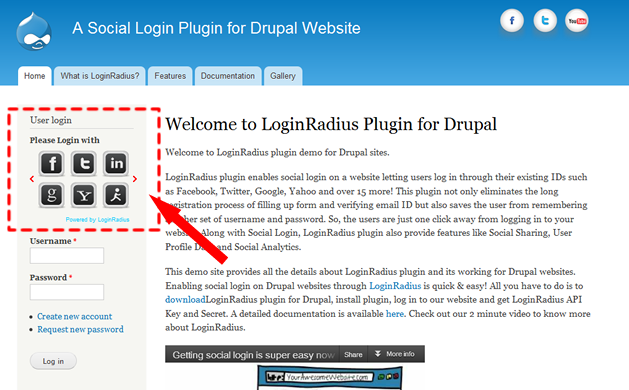 Plugin Features:
Add social login interface (the widget) on any page that supports 30+ ID Providers. (Please see the list below)
Choose as many ID Providers as you want
Users can register by logging in with social ID such as Gmail, Twitter, Facebook etc and they will not require usernames/passwords
It automatically creates account for the users after logging in with their existing IDs
Support legacy account mapping for your existing user accounts to social login
Choose social icon themes and login interface design
Options to show Social Login interface (widget) on login, register page
Personalize ID Providers i.e integrate FB, Google, Twitter apps in to your LoginRadius so that it will show your website name/logo in the ID Providers' login pop-ups
User membership option during registration - Admin can set the option so that user logging in from social login can be a visitor or require admin approval to join
Enable email verification of end users
Every time a user logs in, it fetches user profile data and store in your Drupal database
Get social avatar of your users and show in profile
You'll be the owner of these data and can export anytime from your database
Fetched data include Name, Email ID and over 50 other types of data depending up on ID Providers
Twitter & LinkedIn do not provider email addresses, so in case a user logs in with Twitter or LinkedIn, a pop-up window will appear asking users to fill his/her email address and that can be verified. (not default setting, you have to configure as per our installation document)
Manage module settings and Drupal user permission from your Drupal admin
Email verification for end user after successful login
API connection check feature for error notification
No programming skills required
Its simple, secure and reliable
REST API access and HTTPS support
Validate API key and secret
24/7 quick and the best support available from our technical team
Additional Features
Fully support Drupal-6 and Drupal-7
Supports other Drupal modules - Profiles2, Captcha, etc.
Fully support Drupal e-commerce platform - UberCart
We also have similar social plugins for WordPress, Joomla, Magento, PrestaShop, Vanilla Forum, osCommerce, Zen Cart, X-cart, vBulletin and DotNetNuke! Learn more.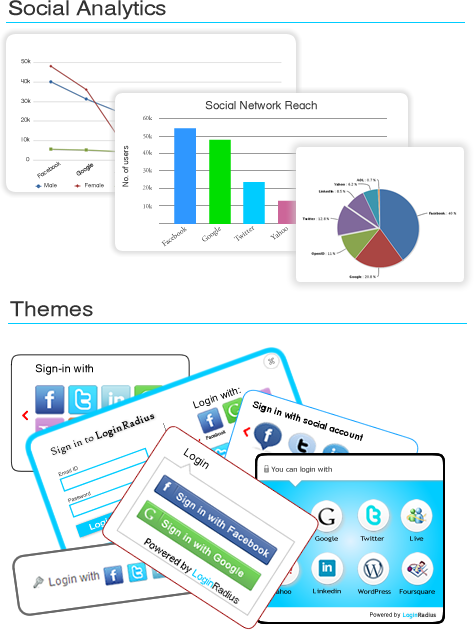 More information:
Learn more about LoginRadius:
Downloads