Updated 21 July: Version 1.2 is now available. See more details in the Release Notes.

#Drupal8 - Follow @OpenSocialHQ for the latest updates.
Together with Drupal Austria we're organizing the first ever Open Social Summit at DrupalCon Vienna. Join us on Monday the 25th of September!
Open Social - Social Business Software
Open Social is a distribution for building social communities and intranets. The distribution is positioned as the successor of Drupal Commons, taking full advantage of the new possibilities of Drupal 8.
Open Social is made by the same core team that created the award winning, Drupal based social community: 'Greenpeace Greenwire'.
Important links
We recommend using Composer to install Open Social. See download and install instructions at the bottom of this page. Furthermore:
Read more about Open Social team on www.GetOpenSocial.com or follow @OpenSocialHQ on Twitter.
Help wanted! - Contribute to Open Social
"Without Drupal distributions, we won't be able to successfully compete with commercial vendors. Drupal distributions have great potential, but we have to do them right, and we have to figure out how to make them sustainable." - Dries Buytaert (founder of Drupal)
Why should you get involved? :)
You can use Open Social for your own projects and clients.
You give back to the open-source community.
As a Drupal freelancer or professional you improve your Drupal.org standing
We welcome code contributions, issue reports and translations. Learn how you can contribute in our Documentation. Please contact info@getopensocial.com for any questions about contributing.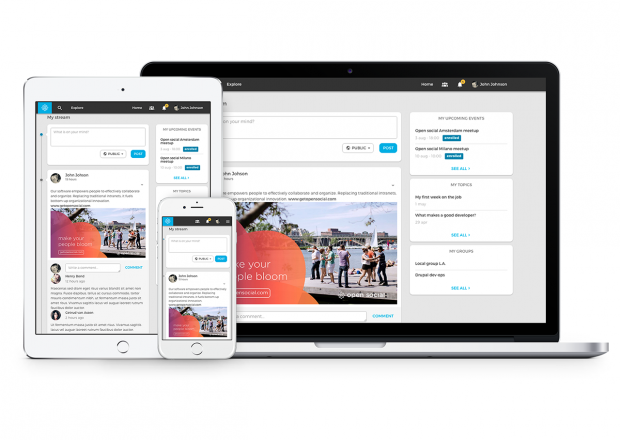 Open Social empowers people to effectively collaborate. Replacing traditional intranets, it fuels efficiency and positive change. It supports organizations to innovate bottom-up instead of top-down.
Feature Sponsors: The Pachamama Alliance, UNDP
Installation instructions with Composer
You have two options to start using Open Social right away. For the most technically minded you can download Composer and follow the instructions below. For detailed instructions on using Composer for Open Social read these installation instructions.
Prerequisites:
Download Open Social with the following command
composer create-project goalgorilla/social_template:dev-master DIR --no-interaction

Composer will create a new directory called DIR. Inside this newly created directory you will find the html folder with the entire code base of Open Social distribution. You should be able to install it like any other Drupal site by using Drush or through the UI.
Installation instructions with Platform.sh
You can deploy and host your installation through Platform.sh. This makes installing and trying Open Social even easier. Get your free 30 day trail below.
Generate demo content (optional)
Following these instructions on generating demo content (Drush support only for now)
More info is on our Documentation. A guide to install in Docker containers is also available.
Commercial project support
For commercial inquiries please send us your project information through: info@getopensocial.com - for support please see the issue queue.
Live Open Social projects:
Joost (NWO) by Triquanta (Dutch)
Youth4Peace (UN) by GoalGorilla
South-South Global Thinkers (UN) by GoalGorilla
GlobalDev Hub (UN) by GoalGorilla
Lets.GetOpenSocial by Open Social
Ankaakademi by Enes
Mail us your project..!
Supporting organizations:
Project Information
Downloads